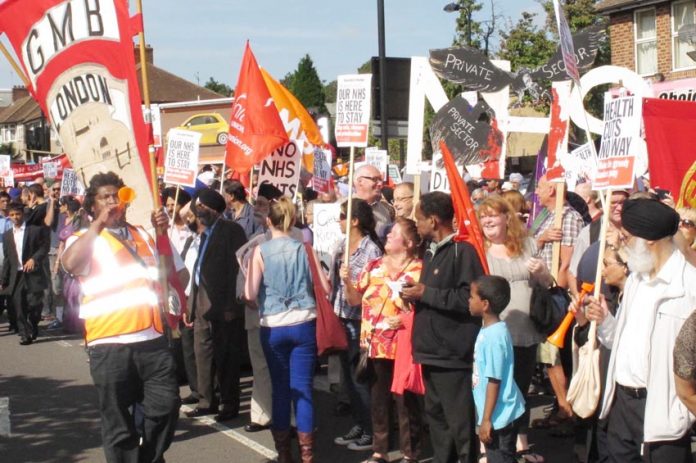 THE British Medical Association (BMA) and the Royal College of Nursing (RCN) yesterday angrily condemned the news that the Treasury has clawed back nearly £3bn from the NHS Budget over the past two years.
Dr Paul Flynn, Chairman of the BMA Consultants Committee, said: 'The Nicholson challenge (the £20bn "efficiency cuts" – News Line) is supposed to be about abolishing inefficiencies to free money for re-investment in the NHS – not just to hand it back to the Treasury.
'This is extremely galling for staff who have been working hard to make savings while maintaining quality of care for their patients, and who are also being threatened with cuts to their pay and conditions.'
RCN Chief Executive and General Secretary, Dr Peter Carter, said: 'It is almost unbelievable that at a time when more than 61,000 posts are being stripped out of the NHS, billions of pounds of unspent money is going to the Treasury.
'On a daily basis, nurses are telling us that they do not have enough staff to deliver good quality care.
'Demand for services is continuing to rise; however, staffing levels are being slashed.
'Nurses are working hard to find the £20bn in savings on the basis that it will be reinvested back into frontline care.
'Sadly, there is no evidence this is happening. This is money that should be reinvested back into vital services, for example in community provision, that would ultimately improve patient care.
'Equally, nurses who have faced an effective pay cut of nine per cent in the past two years, will find this news a bitter pill to swallow.
'The pay freeze has had a huge effect on their finances and this underspend could be spent in a more effective manner than being hoarded at the Treasury.'
An 'exclusive report' in the Health Service Journal said: 'The Department of Health has returned nearly £3bn of its funding to the Treasury over the past two years, despite facing its tightest financial settlement for five decades.'
While the Treasury is stealing billions, frontline services are paying the price.
The Unite union warned yesterday: 'Hospital wards could close and operations be cancelled if the North Tees and Hartlepool NHS Foundation Trust carries out its threat to sack its 5,400 staff in a dispute over sick pay for employees.'
The trust covers 365,000 people living in East Durham, Hartlepool, Stockton on Tees and part of Sedgefield.
• RCN leader Dr Carter said: 'Nurses work hard to deliver the best possible care to their patients but with 60 per cent raising concerns about falling staffing levels and three quarters saying they face unreasonable workloads it is clear that these cuts are having a massive detrimental impact on the NHS.'
• Unison is calling for a full inquiry into the disastrous decision by the Board of Peterborough and Stamford Hospitals Foundation Trust to sign up to a costly Private Finance Initiative (PFI) scheme that has brought the Trust to the brink of bankruptcy.
It currently has cash to pay its bills only to the end of November, and has admitted that the cost of the PFI, at more than 20 per cent of the Trust's declining budget, is unaffordable.
Under the PFI, three major hospital schemes, in Norwich, Peterborough and Chelmsford, which cost £642m to build, are set to cost at least £4.25bn by 2043.