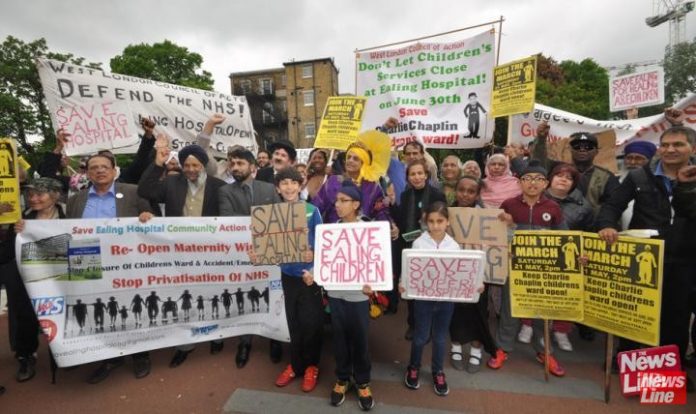 The TORY government has been forced to back down over its hated 'Shaping a Healthier Future' (SaHF) NHS cuts and closure programme in north west London.
Central to it were the planned closures of the A&E departments at Ealing and Charing Cross Hospitals, which have now been ditched.
Tory Health Secretary Matt Hancock told the House of Commons on Tuesday: 'As for the changes in A&E in west London, these will not happen.'
A statement from the North West London Collaboration of Clinical Commissioning Groups said that Hancock's announcement 'means we will not be taking forward the plans as set out in SaHF for changes to Ealing and Charing Cross Hospitals'.
This is a victory for the people of Ealing and north west London, who have fought the Tory government and its cuts and closure plans to a standstill.
When it was launched in October 2012, SaHF was described by former NHS England chief executive Sir David Nicholson as 'the most significant reconfiguration project in the country'.
And since 2012, SaHF has laid waste to NHS services in north west London.
It closed the A&E departments at Central Middlesex and Hammersmith Hospitals in the autumn of 2014, the Ealing Hospital maternity unit in July 2015 and the Charlie Chaplin children's ward, removing paediatric services from Ealing Hospital, in June 2016.
Previously, 3,000 babies a year were born at Ealing Hospital, but now no babies are born at the hospital in the borough of Ealing, while sick children under the age of 16 are no longer treated at Ealing Hospital and are turned away from its A&E.
SaHF would have left the borough of Ealing, with a population equal to Leeds, with no accident and emergency department.
It also planned to axe half the region's blue light services and close 500 beds for acute patients.
However, the plan has now been defeated and the West London Council of Action, who were in the forefront of this fight, are determined that the battle is not over.
They will carry on the struggle and insist now that the much-needed maternity department is immediately re-opened and the children's services be restored.
Every week, they hold a 7-9am picket at Ealing hospital; this week's picket will be a victory picket.
They urge everyone to come along this Friday, 29 March 7-9am outside the hospital, and demand the reopening of the closed departments and for Ealing to be restored as a fully resourced district general hospital.