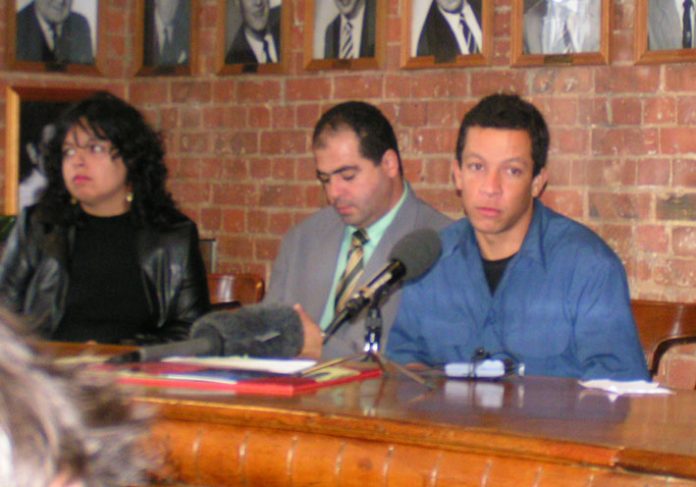 GATE GOURMET pickets were angry yesterday that they have still not been told who is to be offered their jobs back, or who is on the company's list for compulsory redundancies.
TGWU member Gurdev Baranpal told News Line on the picket line at Heathrow Airport yesterday: 'They said we would be receiving letters by Tuesday, then Wednesday, then Thursday, but today is Friday and still there is nothing.
'The union leaders have got the list of compulsory redundancies and some of the senior shop stewards have seen the list. But we haven't seen it and it is us whose future it affects. We are being kept in the dark. It's not right. We are getting no money from the DSS and very little from the union. The union is collecting all this money and giving us hardly anything, just £50 a week.'
TGWU Branch Secretary Jarnail Singh said: 'Gate Gourmet trucks going past have three people in the cabs when there is only meant to be two. I think that means they are training new people up and don't want us back. Gourmet International have lost 200 people, the BA reps are still suspended for coming out to support us and more people will be sacked. We were told we would all receive letters by Wednesday or Thursday morning, but no one has received anything. We are on the hill and have heard nothing from the union or the company.'
Picket Chanan Rattu said: 'I've heard that Gate Gourmet sacked a girl inside yesterday. She is going to come here and join us on the hill.'
Picket Daljit Gill, said: 'I think the company is playing around, passing time until the 10th of November when they can legally sack us all. It's ten days since the meeting last Wednesday when the union said we would all be receiving letters from the company. They said 400 of us would be invited to go back inside, 200 would be given a choice of redundancy or jobs and 144 would be made compulsorily redundant, that's still letting the company pick and choose and it's not right.'
Lakhvinder Saran, said: 'The union leaders have the list of the 144 people who the company wants to make compulsorily redundant. We don't know who is on the list, we don't know anything. Some of the shop stewards have seen the list but we haven't. The union should show us the list, it's disgraceful, it's our lives that are at stake, we are not going to accept it. We haven't seen anyone from the union since the meeting ten days ago. We don't trust the Gate Gourmet management and we don't trust the union leaders.
'We think they are working together now, we won't put up with it. We are the union and we are stronger than them, they are playing with our lives and we are going to put a stop to it.'