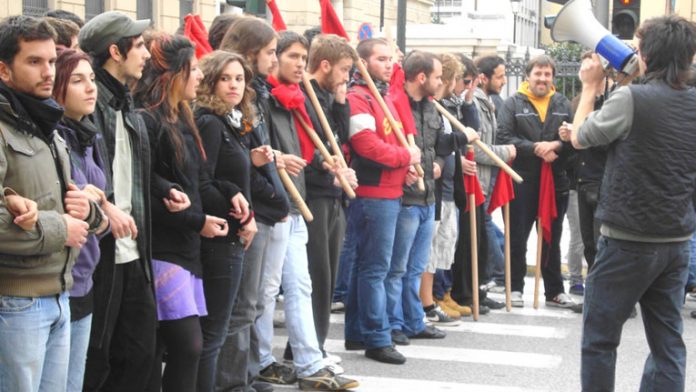 Tens of thousands of Greek school and university students, young workers and unemployed youth participated on Sunday in mass and militant rallies in all the main cities on the first anniversary of the killing by police of 15-year-old school boy Alexis Grigoropoulos.
Youth clashed with the hated MAT riot police who made liberal use of noise bombs and tear-gas canisters against demonstrators.
The city centres of both the capital Athens and of the northern city of Salonica were wrapped in clouds of toxic tear gas. Youth set fires in rubbish bins to reduce the effects of tear gas. Police made hundreds of arrests.
In Athens some 15,000 students and young workers took part in a most militant and angry march throughout the city centre organised by university students' unions.
At the front of the march a huge banner of the Athens Polytechnic declared, 'Youth do not forget – For the victorious uprisings of our generation!'
Students shouted slogans against the government and the police.
The most popular slogans were, 'PASOK and New Democracy mean austerity, unemployment and terrorism' (PASOK is the ruling social-democratic party and New Democracy are the Conservatives); 'The government's policy kills – it cannot be corrected it can only be overthrown'; 'Resistance is carried out in the streets not in parliament'.
As youth and workers were gathering for the demonstration, anarchist youths carried an occupation of the nearby central building of the University of Athens.
The riot police then started throwing tear-gas canisters into the crowd and into the building.
Demonstrators stood firm and did not disperse thus stopping the riot police from storming the building.
As the march made its way to the Vouli (Greek parliament) hundreds of police were stationed in the side streets. Youth attacked street cameras and some banks.
Opposite the Vouli, youths threw stones and fruit against the Ministry of Finance building and the McDonalds next to it.
They were fiercely attacked by riot police squads with tear-gas. Police attacked the bulk of the march with clubs, injuring several people.
Throughout the day and into the night continuous clashes took place between riot police and anarchist youths outside the occupied building of the University of Athens.
Late on Sunday evening thousands gathered at the spot where Alexis Grigoropoulos was shot and died, placing flowers and shouting anti-police and anti-government slogans.
In Salonica thousands demonstrated through the city centre but they were attacked by the police with tear-gas.
Students and youth threw stones and fruit at police and staged a rally outside police HQs demanding the release of all the 88 persons arrested, according to police.
Street clashes between students and riot police occurred in Patras and Yiannina, the two main university cities in western Greece. Police made dozens of arrests.