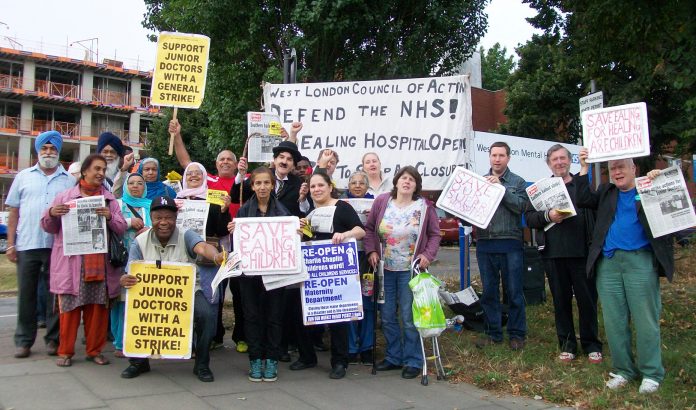 'VICTORY to the junior doctors!' shouted the 50-strong mass picket of Ealing Hospital yesterday morning, adding, 'Call a general strike!'
The picket, called by the West London Council of Action, demanded the re-opening of the Charlie Chaplin children's ward at Ealing Hospital, as well as the re-opening of the maternity department.
'We give our full support to the new 5-day a month junior doctors' strikes,' local student Abdul Sharif declared after joining the picket. He added: 'The government want junior doctors to work more hours. They won't be able to function properly and treat patients properly.
'We need our doctors fit and healthy and not tired. That is why I support the junior doctors' strike! I am so angry about the threat of closure to the A&E. If my mum gets ill and needs the emergency services, where is she going to go?
'She has diabetes. They want to turn the hospital into private flats, that is not right. We have to fight! I want to come to Brighton and join the lobby of the TUC. I believe that everyone should be united and come out together to bring the government down.'
Equity member, David Girt, who came to the picket as Charlie Chaplin said: 'One of the reasons that the children's ward at Ealing was named after Charlie Chaplin was that when he was seven he was in an orphanage in Hanwell, just around the corner from here.
'When he became rich, he never forgot about the orphanage and came back to give the children presents. When people referred to the "good old days", he would get very angry and say, "They were not good, they were cruel."
'If he knew that a children's ward named after him was closed down it would make him very sad and very angry at the injustice that has been done. Most of his films were based on the effects of poverty.'
Unison mental health nurse Flora Adejunle said: 'My union has to call a meeting and take action to defend this hospital. They are cutting staff all the time and they are using more and more agency staff.'
Regular picket Teja Singh said: 'We cannot afford to lose this hospital!' 'If this hospital closes,' he continued, 'If anything happens to anyone in the community, it will be hard to go somewhere else. We have to fight to the end to save the hospital. They closed the Charlie Chaplin children's ward. We want it re-opened again. Maternity has also been shut, both of the wards must be re-opened. We are still struggling, we must save the A&E.'
Patient S. Ludhra told News Line: 'I am a cancer survivor. Ealing is an excellent hospital and it saved my life. I have lived in this area most of my life and Ealing has saved quite a few of my family members lives.'
Psychiatric nurse Winston Charles said: 'We have to save this hospital for the community and for the NHS jobs. It is in a central position. Lives will be put at risk and that puts us at risk. All of us NHS staff need to take appropriate action organised through our unions. Action is justified.'