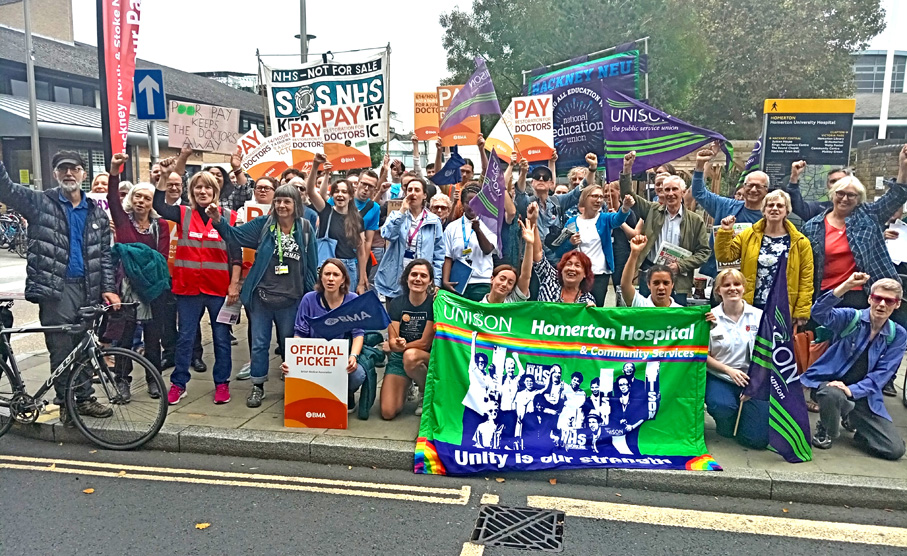 STRIKING Junior Doctors and Consultants are laying siege to the Conservative Party Conference in Manchester today, determined to defend the NHS against vicious Tory attacks which are forcing them to hold another three days of joint strike action this week.
Passing cars, lorries and buses hooted massive support for the strikers as they passed busy picket lines outside hospitals all over England yesterday.
And tomorrow there is a Day of Action by striking British Medical Association (BMA) members, along with striking rail unions RMT, ASLEF, and Unite members assembling at 10.30am outside the Royal London Hospital in Whitechapel, east London.
There was a very lively picket at University College Hospital, opposite Euston Station in central London yesterday morning, where strikers were chanting: 'Pay restoration – doctor retention!' and 'Save the NHS – We are the NHS!'
BMA Consultant Anaesthetist Dr Tom Dolphin told News Line: 'We want the NHS to succeed, but we can't do that if there are 8,000 empty doctor places across the NHS and that is in part because of pay.
'We are on strike now because we know that if we don't make a stand the pain will continue to grow.
'We would be happy to negotiate, but the government are refusing to do so.'
Junior Doctor Dan Arthurs told News Line: 'The Tory government's policy is attacking strikers. They are treating workers very badly. It all fits in with what they are doing with the protest laws and the right to strike, which is fundamental for workers.'
A lively and angry lunchtime rally of over 50 striking Consultants, Junior Doctors and their supporters was held at Homerton Hospital in Hackney east London.
BMA member and Junior Doctor Andrew Myerson told the angry crowd: '10 years ago the NHS was properly funded, but waiting lists have grown. We're fed up with seeing colleagues suffer because of 13 years of real-terms pay cuts.'
Myerson later told News Line: 'I support a general strike to defeat the pay cuts, staff shortages and privatisation of the NHS.'
There was a staunch picket line of BMA Consultants at the Norfolk and Norwich hospital, where Simon Fletcher, Local Negotiating Committee (LNC) Lead, told News Line: 'Most of this has come to a head because everyone is fed up with the disintegration of the NHS and the alternative truths put out by the government.'
Consultants and Junior Doctors from both King's College and Maudsley Hospitals joined forces on the picket at Denmark Hill, where Raj Mohan, Consultant Psychiatrist told News Line: 'The government has not come to the negotiating table. They have not done anything to resolve this conflict
'They have done nothing to improve the health care system. They have chosen to undermine doctors and health care workers.
'I think it is so important that all organisations get together and protest against these policies, because it is not appropriate that public services are being eroded on such a scale. We do need to act together!'