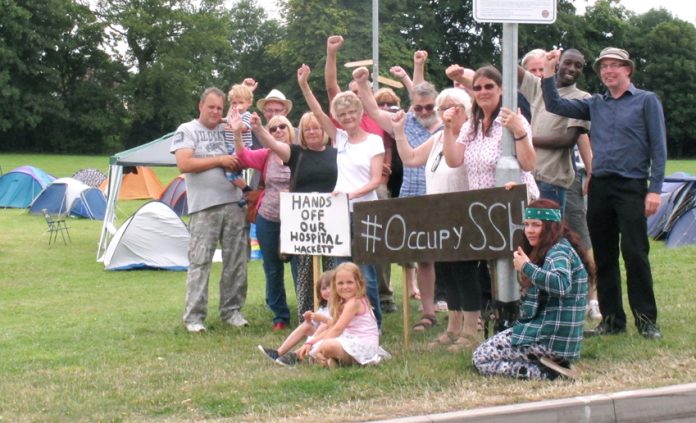 'BED closures will put patients' lives at risk,' campaigners fighting to save community hospital beds across North Staffordshire declared yesterday. The claim that 'patients would generally prefer to be cared for in their own homes' has been used as an excuse to justify mass bed closures, the campaigners said.
Health campaigner Ian Syme – one of dozens who travelled to London in February to take the fight for community hospitals to Parliament – said: 'Over 200 NHS community beds decommissioned, thus closed. That's 75 per cent of the service closed in two years.
'Still no consultation. No bed modelling, no impact assessment, no workforce plan. 'We have a significant reliance on Discharge To Assess (a national initiative) which locally was planned to be fully implemented and operational by April 2017. February 2018 – not fully operational. 'Fast response Intermediate Care Teams in the community do not live up to their name – waiting times are commonly 48 hours to 72 hours. 'District nurse and GP workload is becoming undeliverable.'
Meanwhile, two hundred thousand nursing staff in England will begin voting on Monday on whether to accept last month's pay deal put forward by the government. The RCN leadership is calling for its members to accept the deal, however GMB has correctly told its members to reject the deal. The RCN's online poll will run for six weeks – closing on Tuesday 5 June – and will be open to all members of the Royal College of Nursing working for NHS hospital and community services in England.
Janet Davies, RCN Chief Executive and General Secretary, said: 'The deal is not a silver bullet to cure all ills nor can it rewrite history. But rejecting it would set back the fight for higher wages by eighteen months or longer and leave people worse off.'
However, the three-year pay deal, GMB explains, is actually a pay cut! Furthermore, accepting the deal also means accepting the end of hard-earned NHS working conditions. GMB rightly recommends their members to reject the Tory government's NHS pay offer, as a 6.5% pay increase over three years, when compared with rising inflation, is in real terms a pay cut.
If the deal is accepted then around 500,000 NHS workers will face an open wage cut. However, as the details of the deal emerge we find that it is even worse than first seemed.
There will be no more automatic yearly pay increases, and any increase will be dependent on managers' 'appraisals'.
Dave Wiltshire, Secretary of the All Trade Union Alliance, said: 'This is performance-related pay where every single worker is forced to negotiate his own pay increase with management who can rule that if targets are not met then there will be no pay increase. 'Workers refused incremental pay increases could find themselves with pay increases actually below the existing 1% pay cap!
'Forcing workers to negotiate their own pay undermines the very foundation of trade unions as organisations for collective bargaining. 'The GMB are right to call for this pay deal to be rejected. Vote "NO" to the pay deal.'