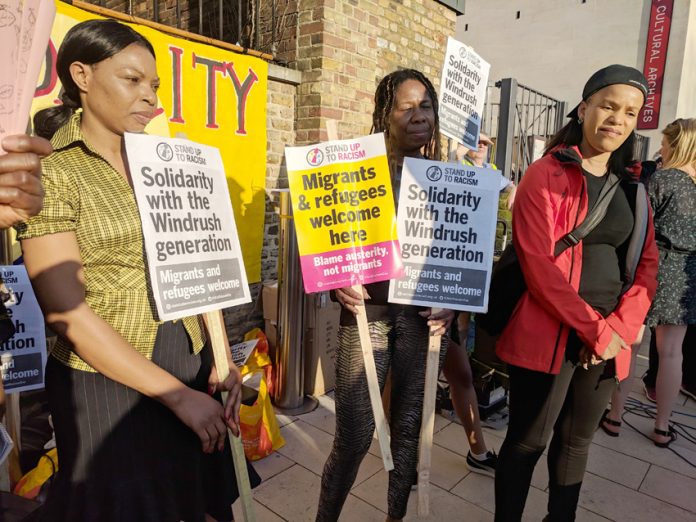 LABOUR leader Jeremy Corbyn says Prime Minister Theresa May's 'hostile environment' set a 'deliberately unreachable bar' for migrants and created the Windrush generation scandal.
In a speech to the Welsh Labour Conference in Llandudno yesterday, Corbyn called on May to listen to the harrowing human consequences of her cruel and discredited policy, which 'has ripped lives apart' and to change course. He told the conference: 'This week, something rotten at the heart of government has come to the surface. 'The Windrush scandal has exposed how British citizens who came to our country to rebuild it after the war have faced deportation because they couldn't clear the deliberately unreachable bar set by Theresa May's "hostile environment" for migrants.
'We have seen one government minister after another, including the Prime Minister herself, trying to dodge and weave around the facts to avoid scrutiny and justified criticism. 'But the facts are clear.
'And it's not as if they weren't warned. At the time the Tories were pushing their hostile environment policy through Parliament some of us, sadly far too few, warned about the consequences for those born in the UK and those born abroad alike.
'And our Shadow Home Secretary Diane Abbott was brushed off by Theresa May when she asked with tragic prescience what thought had been given to the likely consequences of these policies.
'So now we're seeing those consequences in a string of harrowing human stories. People's lives ripped apart because of the personal decisions and actions of Theresa May and her government.
'The mother of Windrush citizen, 57-year-old Dexter Bristol, who died last month after being classed as an illegal immigrant, has said she believes the stress of the experience contributed to his death.
'She argued, powerfully and convincingly "This is racism. He was the victim of their policies. There was a lot of racism when I came here. This is worse, this is the government."
'Now we learn today that yet another government policy – to force voters at election time to prove their identity at polling stations by producing official documents – would have a disproportionate impact on people from black and ethnic minority communities. 'It's the same "hostile environment" all over again, shutting our friends and neighbours out of public life, treating people who have made Britain their home, as second-class citizens. 'It's disgraceful, it's discriminatory and it must be brought to an end.'
Corbyn's latest remarks came in response to a leaked letter from the Equality and Human Rights Commission (EHRC) to Cabinet Office minister David Lidington, raising serious concern that planned ID checks at polling stations during next month's council elections will deter immigrants and others from participating in the democratic process.
Under the new government voting rules, being trialled in several local authorities at the 3rd May local elections, people will be asked at polling stations to produce documents proving their identity – such as a passport or driving licence – before casting their vote. Currently, no such proof is required.
Cat Smith MP, Labour's Shadow Minister for Voter Engagement and Youth Affairs, said: 'This intervention from the Equality and Human Rights Commission is further proof that this government is determined to undermine our democracy.
'The introduction of voter ID in polling stations is one of the most dramatic changes to our voting system ever. It is deeply concerning that the government has ignored multiple warnings that these pilots will have a disproportionate impact on various groups, such as ethnic minority communities, older people, transgender people, people with disabilities. 'Labour wants everyone's voice to be heard at the local elections, no matter someone's background, which is why we are calling on the government to abandon these damaging pilots.'
• Several hundred people demonstrated in Windrush Square, Brixton, south west London on Friday evening in protest at the Tory government's immigration laws. Speakers, included Labour's shadow home secretary Diane Abbott who said: 'Amber Rudd and Theresa May shouldn't be apologising. You know why? Because you only apologise when you make a mistake – they knew what they were doing.' She and others pointed to May's direct involvement in creating a 'hostile environment' for people who had been making a contribution for decades and were angry at the shredding of documents which proved people's right to remain.