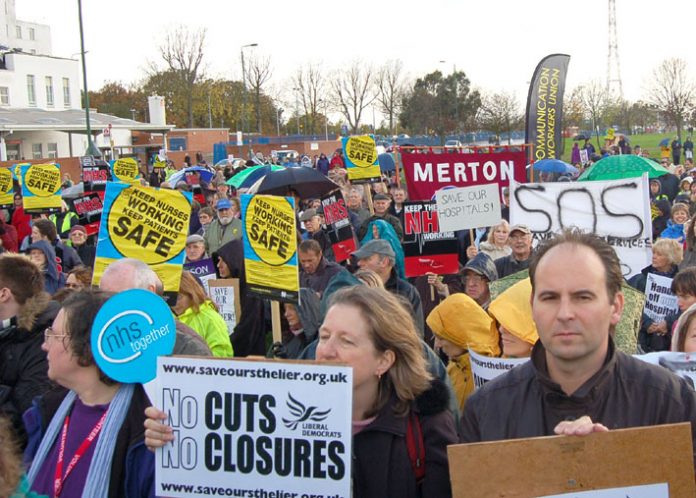 Epsom and St Helier Hospitals, two busy Surrey General Hospitals with bustling Accident and Emergency Departments, are to be replaced by a single hospital with no A&E, it has emerged.
A Board Meeting of the Trust last Friday announced a virtual doubling of its cuts target, from £24 million to £41.
The board said it plans to make £21 million of cuts this year and a further £20 million in 2008/2009, to comply with government targets.
Epsom and St Helier's UNISON Branch Secretary Kevin O'Brien told News Line yesterday: 'We are facing a lot of redundancies, 100 in the first instance. They've allocated £6 million for redundancies.
'We said 480 posts would be going within the trust, so far there have only been about half a dozen jobs gone, but they are already sacking all the housekeepers.
'At the moment there is a consultation going on about this, ending at the end of May, then they will go down the road.
'I am envisaging the possibility of industrial action, especially over the cutting of 30 clinical nurse specialist posts and a similar number of medical secretaries, if not more.
'We have had two marches and a rally which have been very well supported by the local community and we are holding a bed push on 5 May.'
The Trust announced on Friday that the planned new hospital to replace Epsom Hospital in Surrey and St Helier in Sutton, is now in serious doubt.
Board members claimed the new unit would have a catchment of just 350,000, falling below the government's minimum of 500,000, which they said is required to support an accident and emergency department.
However, Bob King, local resident, patient and Bectu member, told News Line: 'The catchment area is Sutton, Merton and Epsom and other parts of Surrey. It must be more than 350,000.
'I'm horrified at the thought that we will be left without an A&E.
'The nearest would then be Kingston, St Georges in Tooting or Mayday in Croydon, each of which is miles away through heavy traffic.'
James Land local resident and retired EEPTU electrician's union member added: 'We need our hospital and especially its A&E. The unions have to fight for us.'
Geoff Martin, Health Emergency Head of Campaigns, said: 'It appears that the plans for even a scaled down new hospital to replace Epsom and St Helier are in serious doubt as the catchment population has been whittled down to a level well below that required to justify an accident and emergency department.
'It seems certain that St Helier is being set up for a merger with St George's and that Epsom is being hung out to dry by the Surrey PCT.
'This is no way to run front line hospital services for the growing population in Merton, Sutton and mid-Surrey.'
Staff, trade unionists, local people and the two local MPs are holding a 'bed push' demonstration between St Helier and Epsom Hospitals, starting at St Helier at 9am on Saturday 5 May.
Meanwhile it was announced yesterday that Welsh NHS managers are forecasting a £33 million deficit for the last 12 months.
Among them are Gwent Healthcare NHS Trust which has forecast a debt of £6.5 million, the Welsh Ambulance Service, a £6.4 million debt, Swansea a deficit of £4.4 million, and Powys a deficit of £3.2 million.