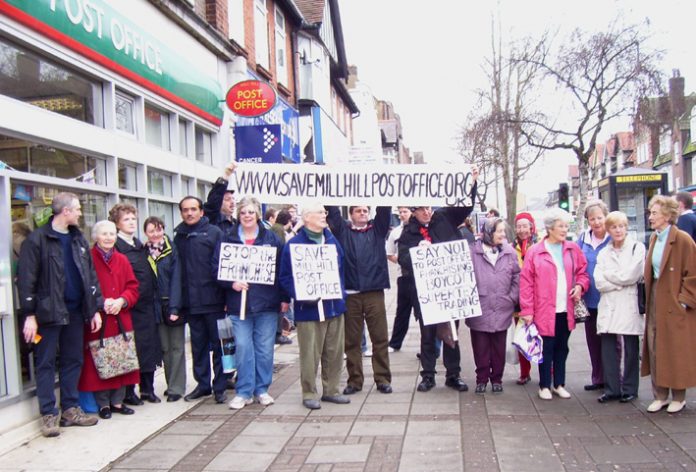 Strike action 'very close to the scale of the (1980s) miners strike, if not bigger' is unavoidable – unless management withdraws attacks on the jobs, wages and rights of workers across the postal service, including Royal Mail.
That was the reaction of a London postal workers' leader yesterday to news that their union is consulting members employed by Post Office Limited on national strike action.
Mole Meade – Counters Section secretary of the London Region of the Communication Workers Union (CWU) – said postal workers were facing wage cuts as well as privatisation.
He called for a boycott of WH Smith over plans to 'franchise out' 70 Crown Post Offices to the high street chain.
The CWU warns that 3,000 of their members' jobs are under threat.
The fate of a further 15 post offices is as yet 'undecided'.
'I think our reaction's very clear, it's unacceptable,' Meade told News Line.
'WH Smith are refusing to recognise the union, they're refusing to allow people to transfer under TUPE,' he alleged.
He claimed: 'Post Office Limited (POL) have actually signed the contract, before even putting it out to consultation – not just with the union, but the general public at large.
'The "major shareholder'' for the Post Office is the government, but ultimately the "shareholder'' of the Post Office is the public – the citizens of this country – and it's unacceptable.'
Meade warned: 'What the government is trying to do is rubbish a perfectly good public postal service and when they've privatised it, with all the other stealthy little tricks they've got planned, they're going to make it look as if it's been a "massive success''.
'There are an awful lot of people around the country who are preparing to boycott Smith's, and hopefully there'll be a mandate to all CWU members across the country and their families and friends to join the boycott.
'I see industrial action as part of a strategy to see off this ridiculous position that Royal Mail and POL have decided to put themselves in.'
CWU Assistant Secretary Andy Furey said: 'This is a devastating blow for employees and customers alike and the sole reason to these plans is for profit purposes only.
'Specialist, highly skilled staff who have provided years of dedicated service are now being substituted for inexperienced staff on poverty wages.
'CWU members are ready to fight these plans.
'We urge the public to use their power and boycott WH Smith's in order to retain a public service which is valued and trusted.'