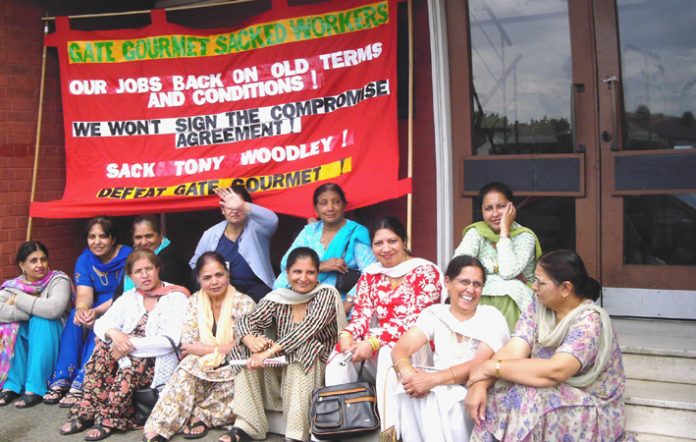 Gate Gourmet locked out workers are calling on British Airways workers and all workers to join them on their anniversary march and rally in Southall on Sunday 20th August.
Speaking at their weekly picket of the Transport and General Workers Union regional office in Hillingdon west London yesterday, Asha Varma said: 'It's in all the papers, BA is going to face a very heavy fine, very soon if they are found guilty of price fixing.
'That means they will be more determined than ever to sack thousands of workers and cut conditions for the rest.
'They've already said that they want automatic check-ins and to cut pensions.
'BA is also responsible for what happened to us at Gate Gourmet.
'The BA workers took sympathy strike action to support us when Gate Gourmet locked us out.
'BA and all airport workers should struggle to defend all jobs and join us on our rally on the 20th.
'BA should be nationalised and so should Gate Gourmet.'
Sandesh Kumara added: 'Please join us on our anniversary rally.
'We were unfairly dismissed and we expected the union to fight for us but the leaders took the side of the company.
'Now the company is apologising to some people for what it did to them.
'But it is refusing to give them their jobs back, saying it's because of the "compromise deal" agreed with the union.
'The union should tear up the deal.
'We never agreed it and Woodley (TGWU leader) and the others who signed it should be sacked.'
A shop steward of the locked out workers who signed the deal and took re-engagement under the company's Survival Plan, on his way into the union office, stopped and spoke to his former colleagues.
He said: 'The conditions inside are terrible. Everyone is very upset. They have to do more work and it's very tight for the breaks.
'They've changed all the rules and regulations. This was all agreed by the union under the Survival Plan.
'I was out for six months then I got my job back but with no compensation. It's very bad.'
Locked out worker Sukhdev Brar said: 'We are all really struggling financially.
'After saying that we would get no more hardship payments after the 6th January, the union has now said it will pay our hardship pay for February.
'But we want hardship pay for every month until we finish.'
Satti Uppal added: 'We've been out for a year now and people should come to our anniversary to support us.
'We are going to have a big march through Southall followed by a rally at the community centre and we want to pack it out.
'There will be music and food in the evening.
'Our struggle is really important. The company attacked us and sacked us unfairly and the union leader signed a deal with the company and tried to betray us.
'But we have fought them both and now they are trying to apologise but we won't forgive them.
'We are very, very angry with the company and the union leaders and we will win, definitely.'
Next Thursday the locked out workers are going to the employment tribunal in Reading to view a company-made video, claiming to record the events of August 10th 2005, the day they were all locked out.