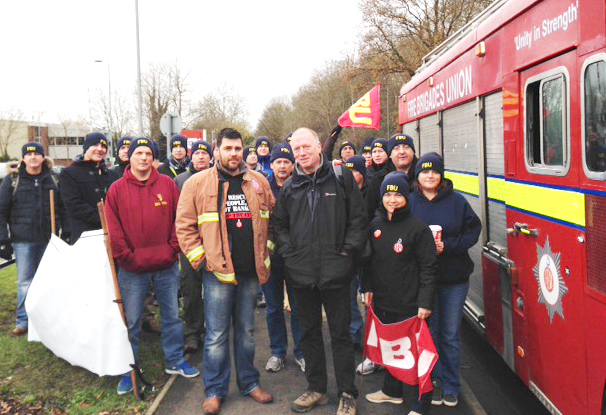 'REINSTATE Ricky Matthews!' demanded 2,000 firefighters on a national FBU demonstration in Aylesbury, Buckinghamshire, yesterday.
The march took place as firefighters throughout England took 24-hour strike action in defence of their pensions.
It set off from Oakfield Park and passed the main Aylesbury fire station, on its way to a rally in the town centre, stopping when it reached the fire station where marchers shouted: 'Shame on You!' over the sacking of Matthews during official FBU strike action last month.
Matthews is an FBU Executive Committee member for the southern region of the union.
FBU General Secretary Matt Wrack, addressing the demonstration outside the fire station, said: 'This magnificent turnout sends a message to Chief Fire Officer Jones of the strength of feeling of our members.
'This is only the start of this battle, we ask them to see sense, we are willing to go to court.
'In any case we won't allow any FBU member to be victimised, we've always fought against that for many years and that is what we are going to do for Ricky.'
Wrack concluded by leading the chants of: 'Reinstate Ricky Matthews!'
Matthews told News Line: 'Personally, my sacking came as a real shock, I am bitterly disappointed.
'All I want is my job back, doing what I love to do.
'The FBU are now mounting a legal challenge against Buckinghamshire Fire and Rescue Service.
'I just hope people in authority see sense and allow me to return to work.
'I was sacked during lawful national strike action, without any disciplinary investigation, hearing, or opportunity to state my case.
'And the Buckinghamshire Fire and Rescue Service have refused to hear any appeal from me.'
On the picket line before the protest, Damon Robertson, Bucks FBU Brigade Chair, said: 'We're here today as a demonstration against the sacking of brother Ricky Matthews.
'We believe, as does the remainder of the FBU throughout the country, that Ricky was unlawfully sacked and we hope that this march today will go towards Ricky's reinstatement.
'And we hope that we can address the feeling of bullying and harassment on FBU members throughout Buckinghamshire and the remainder of the country.
'After today's march, there will be meetings to decide the next stops towards Ricky's reinstatement.
'We're on strike today to fight for our pensions, public safety, our own terms and conditions as employees and to provide for our families.
'We are not asking for anything else other than what we signed up for.'
Staffordshire FBU Brigade Secretary Rich Williams told News Line: We've got a couple of hundred members here from Region 7 today to show our support for Ricky Matthews.
'We understand that the Buckinghamshire Fire and Rescue Service have been a bullying regime towards our members.
'We won't tolerate that, which is why we are standing here together today, alongside our colleagues.
'We are on strike today nationally over our pensions.
'I do believe we need a combined effort from all trade unions in a national day of strike action and a national demonstration against this draconian government.'