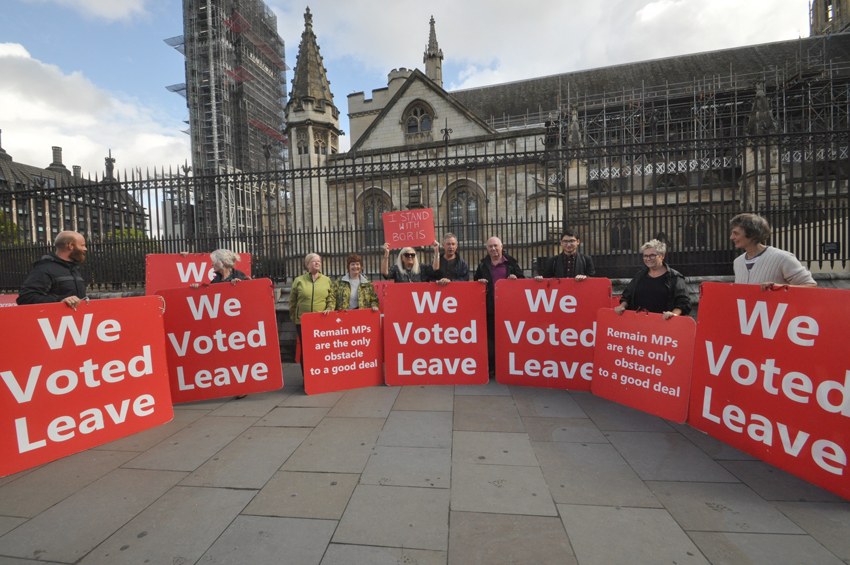 MPs have been called to Parliament for a special Saturday sitting on 19th October, following a meeting of the EU's EC on Friday which is due to decide whether the UK leaves the EU with or without a deal.
Parliament will meet on 19 October after the crunch EU summit.
If a deal is agreed, Boris Johnson will ask MPs to approve it – but if not, a range of options could be presented. including leaving without a deal.
Labour, Tory, LibDem and SNP Remainers are set to move that Brexit should be dumped.
MPs are expected to agree a business motion in the Commons for the sitting to take place.
If agreed, the additional day would coincide with an anti-Brexit march run by the People's Vote campaign, which could see thousands of protesters heading to Westminster, plus a lobby of parliament by many thousands of Leavers.
The prime minister has said he is determined that the UK will leave the EU on 31 October, despite legislation, known as the Benn Act, which requires him to write to the EU requesting a further delay if a deal is not signed off by Parliament by 19 October.
There may well be moves to scrap the Benn Act and to leave the EU without a deal, and at once!
Scottish judges said on Wednesday they would not rule on a legal challenge from campaigners seeking to force the PM to send the letter – or to allow an official to send it on his behalf if he refused.
They said they would delay the decision until the political debate had 'played out'.
The House of Commons has only sat on four Saturdays since 1939, including on 2 September that year, due to the outbreak of World War Two.
The last time there was a Saturday sitting was 3 April 1982, due to the invasion of the Falkland Islands.
French President Emanuel Macron has told Johnson the EU will make its final position clear on the chances of a deal by the end of this week.
A row broke out on Tuesday after a No 10 source said a call between Johnson and the German chancellor, Angela Merkel, had made a deal 'essentially impossible', claiming she made clear a deal based on his proposals was 'overwhelmingly unlikely'.
The President of the European Council Donald Tusk sent a public tweet to Johnson, accusing him of playing a 'stupid blame game' – a criticism echoed by a number of opposition parties in the UK.
On Tuesday night, Irish Taoiseach (Prime Minister) Leo Varadkar spoke to Johnson on the phone for 45 minutes, and told broadcaster RTE afterwards it would be 'very difficult' to reach an agreement before the end of the month.
The special Saturday meeting of the House of Commons will see the biggest clash of opposing class forces since the English civil war.