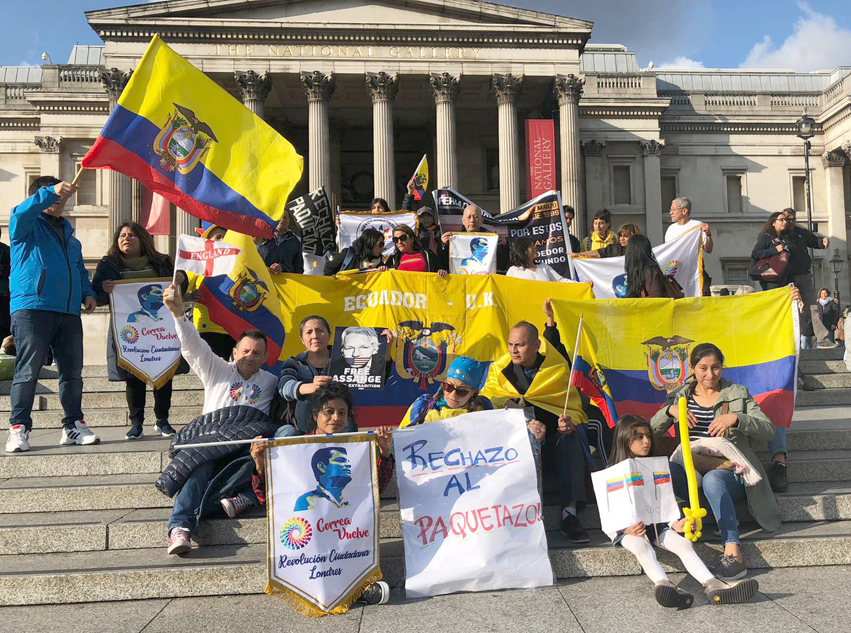 ECUADORIAN President Lenin Moreno abandoned the capital, Quito, on Monday and fled to the coast ahead of mass demonstrations which were held yesterday.
A mass uprising is underway in Ecuador following the abolition of fuel subsidies, as ordered by the International Monetary Fund (IMF).
Ecuador has been rocked by demonstrations after increases of up to 120 per cent in fuel prices came into force on October 3.
Diesel prices have risen from $1.03 to $2.30 per gallon, while gasoline went from $1.85 to $2.39.
Moreno has stoked up fury in the country, accusing those opposing the measure of being 'loafers'.
Speaking at the end of another day of protests and road blockades on Monday night, Moreno announced in a national broadcast that he has moved the government's administration from Quito to the port city of Guayaquil.
A 66-year-old who uses a wheelchair after a 1998 shooting during a robbery left him paraplegic, Moreno has declared a 60-day state of emergency across Ecuador.
He said: 'There will be mechanisms to ease the impact on some sectors. But listen clearly: I am not going to change the measure: the subsidy is finished, no more loafing.'
Hundreds of trade unionists alongside Indigenous people and farmers clashed with Ecuador's security forces on Monday as they marched toward Quito.
Riot police and the military used tear gas to try to disperse marchers in the town of Machachi on the outskirts of Quito.
Chanting protesters blocked roads in the town with burning tyres and barricades.
'More than 20,000 Indigenous people will be arriving in Quito,' said Jaime Vargas, leader of the Confederation of Indigenous Nationalities of Equador (CONAIE).
CONAIE was key – back in 2000 – to driving out of office then-president Jamil Mahuad after he had changed the currency to the US dollar and handed the economy over to the IMF.
Thousands of trade unionists, Indigenous people and poor farmers converged on Quito yesterday, Wednesday.
Protesters from southern Andean provinces, some armed with sticks and whips, began heading to the capital on Sunday aboard pick-up trucks and on foot.
They said other Indigenous groups were moving toward the capital from the north to join the protest in Quito.
The protests – the largest in a decade in the nation with Pacific, Andean and Amazon basin regions – are being led by transport unions but include students and others.
The protests have so far left one civilian dead and 77 injured, the majority of them security forces, the government said.
A total of 477 people have been arrested.
The government of President Moreno scrapped subsidies as part of an agreement with the International Monetary Fund to obtain loans despite Ecuador's high public debt.
'I am committed to a dialogue with you, my Indigenous brothers, with whom we share so many priorities,' the president said in a radio address on Sunday. 'Let's talk about how to use our national resources to help those in the greatest need.'
But Vargas shot back: 'We are sick of so much dialogue … There have been thousands of calls, thousands and thousands of calls, and until this point (of the mass march), we have not brought out our response.'
Nelson Erazo, the leader of the Popular Front of workers and students, said: 'The people's actions will not stop here if the government does not change its policy.'
Moreno declared a state of emergency last Thursday, allowing the government to restrict movement, to use the armed forces to maintain order and to censor the press.
In response, CONAIE said it, too, was invoking a state of emergency in Indigenous lands and warned that security forces entering Indigenous areas would be captured and held.
Indigenous leaders have been holding several dozen soldiers since Sunday.
Last Thursday and Friday, Ecuador's transport unions held protests against the scrapping of the fuel subsidies with two days of unrest that halted transport nationwide and resulted in almost 370 arrests.
Members of the riot police aimed their weapons as they clashed with demonstrators.
From the highland capital Quito to the coastal city of Guayaquil, many bus and taxi services halted this service on Thursday and Friday, while demonstrators blocked roads and clashed with police.
Since the scrapping of the subsidies last Thursday, the trade unions and other social movements have vowed to stay in the streets.
Moreno has been instructed to end the fuel subsidy in order to conform with a $4.2 billion International Monetary Fund (IMF) loan deal.
His elimination of the decades-old fuel subsidies has incensed Ecuadorians and brought violent protests back to a nation with a history of political volatility.
In Quito, students lobbed stones at ranks of riot police and armoured vehicles last week during the worst unrest for years in the country of 17 million people.
Security forces used tear gas to prevent hundreds of protesters from reaching the white-walled presidential palace in the city's colonial centre.
At a news conference last Friday evening, the transport unions' spokesman Abel Gomez said they had expressed their disagreement and handed in a list of demands to the government.
Leaders of Indigenous groups, students and other unions, which had joined the protests, told reporters in Quito last Friday that they would continue and called for the nationwide strike on Wednesday 9th October.
'Not even jail will stop the Ecuadorian people's struggle,' said Nelson Erazo, head of the Popular Front, an organisation that groups together unions and social movements. 'These will be days of unrest.'
Moreno's popularity has sunk to below 30% compared with above 70% after his 2017 election.
By Friday evening, 368 people had been arrested, mainly in Quito and Guayaquil, the Interior Ministry said. Looting was reported in Guayaquil.
Authorities say 59 police officers have been hurt, a dozen police cars destroyed, and a local government building attacked.
Ecuador is under instruction from the IMF to save about $1.5 billion a year from ending fuel subsidies.
The government has also been laying off state workers, in line with the IMF deal, with the aim of reducing the fiscal deficit from an estimated $3.6 billion this year to under $1 billion in 2020.
Ecuador has also said it plans to leave the Organisation of the Petroleum Exporting Countries (OPEC) in 2020, which it says will enable it to pump more oil and raise revenue.
Moreno's government accepted a three-year, $4.2 billion loan deal with the IMF in February, dependent on 'structural measures' including slashing subsidies, raising tax revenue and 'bolstering central bank independence', ie allowing the international banks to raid the county's finances.
The deal allowed Ecuador to receive an immediate disbursement of $652 million and paved the way for an additional $6 billion in loans from other multilateral institutions.
Ecuador's agreement with the International Monetary Fund will impoverish people and damage the country's economy, with its strategy of deep cuts to the public sector and changes to labour law that will make employment more precarious.
International Trade Union Confederation (ITUC) General Secretary Sharan Burrow said following the IMF deal: 'Ecuador's strategy of public-sector-led growth reduced poverty by more than a third between 2007 and 2016.
'That successful approach is now being trashed with the IMF insisting on austerity as a condition of a $4.2 billion loan to the country.
'Wages will go down, unemployment will rise, and the prospects for economic growth will stall or decline.'
ITUC Deputy General Secretary Víctor Báez warned of the negative impact similar agreements have had on workers in Greece, Egypt, Tunisia and Argentina.
He pointed out that even if the government were contemplating measures which would be beneficial to workers, government decisions would need to be 'vetted' by IMF staff members.
Baez said: 'The IMF should stop clinging on to policies that cause long-term damage to economies and that put the burden on working people. It should support a strong and viable public sector, and programmes that ensure the economy works for people, not for international financial interests and multinationals that are continuously looking for the cheapest, most "flexible" labour without regard to people's livelihoods and living and working conditions.'