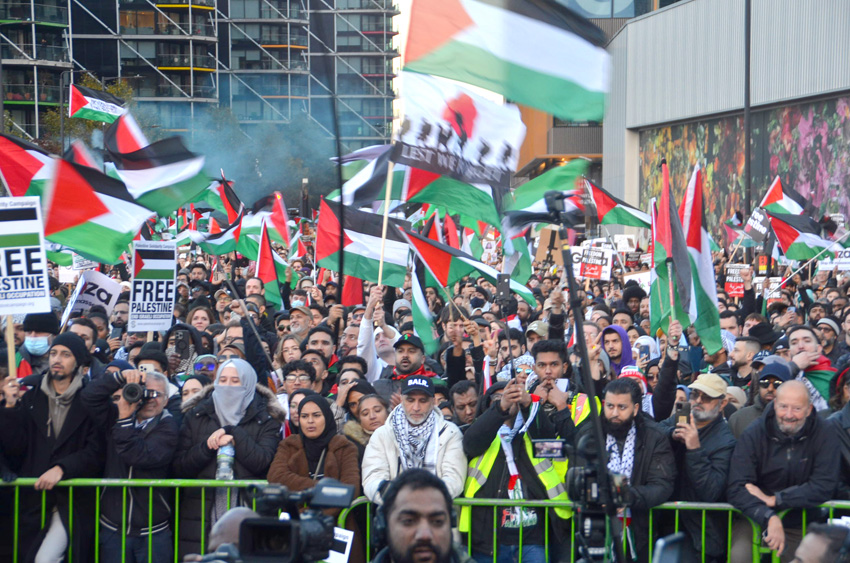 ONE MILLION workers, students and youth marched from Hyde Park Corner in central London to the American Embassy in Nine Elms, south west London on Saturday, demanding 'Free, Free Palestine!'
The march was led by large banners from the Palestine Solidarity Campaign, the Campaign for Nuclear Disarmament, the Stop the War Coalition, along with the National Demonstration for Palestine Banner.
There was a large delegation behind the Workers Revolutionary Party and Young Socialists banner which demanded 'Charge Israel with War Crimes!'
The huge march kept up constant chants of 'From the River to the Sea – Palestine Will be Free!' '1, 2, 3, 4, Occupation no More – 5, 6, 7, 8 – Israel is a Terrorist State!' 'Free, Free Palestine!' 'Netanyahu you can't Hide – We Charge you with Genocide!'
There were thousands of Palestinian flags and placards including 'Ceasefire now!' 'Genocide will be Paused for Four Hours Every Day to Allow for Ethnic Cleansing!' 'Palestine Stolen 1948, 1967, and Now!' 'Stop Killing Children!' 'Viva, Viva Palestina!' 'Hands off Al-Aqsa!' 'It's been One Month and 75 Years!'
The Jewish Socialists Group banner was on the March as was the Na'Amod banner, declaring: 'UK Jews demand Stop the Genocide – End the Siege!' The Jewish Voice for Labour banner said: 'There are no Two Sides to Genocide – Free Palestine!'
As the march was assembling Assad, a politics student from Brighton University, told News Line: 'The British government has come out in strong support of Israel. Even the mainstream Labour Party and its leadership is supporting Israel. It's very important to show that there is a difference, that people in Britain do not support Israeli war crimes and that workers in Britain support Palestine. A general strike is necessary.'
Mustafa Zia, a pharmaceutical worker from west London, said: 'Three weeks ago Israel lyingly claimed that Palestinians had bombed their own hospital. Now they are openly bombing hospitals. It's totally immoral, a heinous crime against humanity.
'Israel has a huge budget lobbying foreign governments, getting them to support them and spread their misinformation claiming that Hamas is for annihilating Jews. This is an out and out lie. Hamas has said it would be prepared to accept a two-state solution.'
The march arrived at its rally outside the USA Embassy shouting 'Viva, Viva Palestina! Joe Biden, Blood on your Hands! Rishi Sunak, Blood on your Hands! Keir Starmer, Blood on your Hands!'
• See Feature, editorial & photo gallery