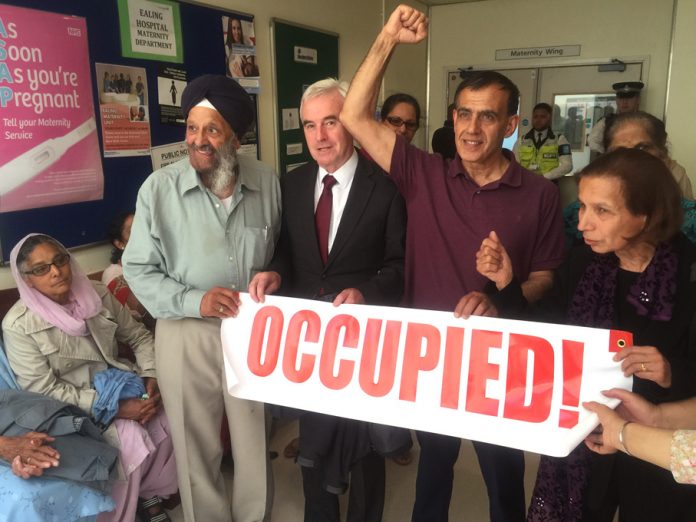 Ealing Hospital is Occupied! Local residents, workers and youth occupied the entrance to the Maternity Department of Ealing Hospital yesterday to stop its closure.
The hospital management and their security forces tried to bar the way to the Maternity Department and used the police – who were not too keen to participate, and a number of them walked off at the arrival of Labour MP for Hayes and Harlington John McDonnell who joined the occupation.
It was then decided to occupy the entrance to the Maternity which is now under occupation 24/7.
John McDonnell said: 'I am supporting this action and occupation because we cannot stand by and allow our NHS to be shut down in front of us. We have to take action before the NHS is lost.'
'It's a matter of life and death. The Trade Unions must be forced into action. We urge everybody here to take action and take part in an occupation. We must not let this hospital close!' said Tony McEvoy, Secretary of the West London Council of Action, yesterday, outside the closure-threatened Ealing Maternity.
Students, youth, workers and local residents marched through Southall yesterday to the Maternity Unit to stop the closure.
Addressing the rally outside, McEvoy continued: 'On July 1st, we will be organising another march and we call on workers in the local area to stop work on the day.
'We call on bus workers, tube and train workers, Council workers to join the march and make it a march of thousands.'
The march received tremendous support, as it made its way past the busy shopping centre of Southall Broadway.
Chants of 'Defend Ealing Maternity, and Occupy Now! were received with cheers from passing shoppers who joined in the march and passing motorists who tooted their horns in support.
Fowsia Siad told News Line: 'I put my name on the list to occupy and I am supporting this action 100%. I had my four children here. Ealing Hospital is part of our family.'
Her friend Khadra Hassam added: 'I feel cheated that they are trying to close Ealing Hospital down. My job from now on is to make everyone aware of what is going on under our noses and put a stop to it.'
Nafisa Qayare told News Line: 'I have had eight of my ten children at Ealing Maternity. If they close Ealing Maternity down I will have to have my children in the Ealing Accident and Emergency, I can't go far away because all my children are at home.
'How can I take my ten children with me to Hillingdon Hospital. It's miles away. Maternity must not close and the A& E must not close either.'
Ayeisha Bernard from Walthamstow Young Socialists said: 'They are doing the same to our Whipps Cross Hospital in Walthamstow.
'I've come down here to stand up for what is right. I believe that the maternity service must not be closed.
'For Mums who are having babies in this area it will be very difficult.
'In an emergency women have to get to the maternity extremely quickly. Pregnant women are under so much pressure. The baby can come at any moment.
'If women have to travel far to the next hospital there could be so many problems and women may be forced to give birth on the way.
'We have our rights and this community must be served.'
Local resident Rana Mohinder said: 'The local Labour MP Sharma does nothing for us. He's done nothing to save Ealing Hospital.
'When he wanted our vote he went everywhere asking us to vote for him, now he has got elected he is doing absolutely nothing.
'Tory PM Cameron is the same. All these politicians let hospitals close.
'If anything happens to us then they are responsible. If we have to travel to Hillingdon and something happens to us on the way, then they are responsible.
'Cameron is the worst Prime Minister ever, the Tories look after the rich people and they have got to go.
'It's not just maternity that is threatened at Ealing, they want to close the whole hospital That is why I am fighting to keep it open'.