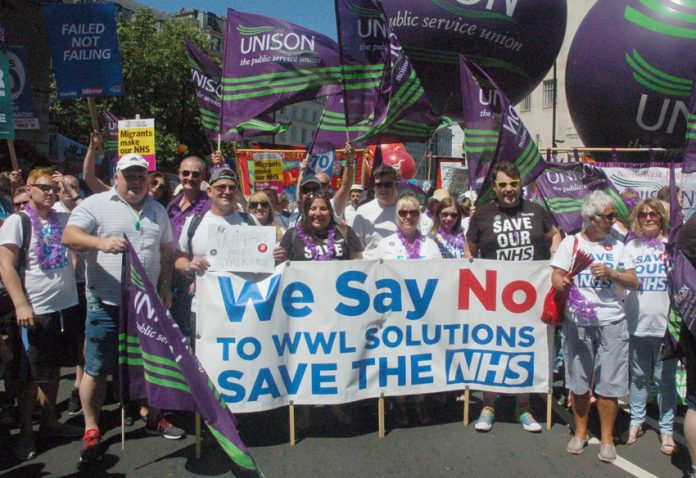 DOCTORS union the BMA is 'strongly opposed to the fragmentation and privatisation of the NHS, which is divisive to hardworking NHS staff and could affect continuity of care at ward and department level,' BMA Representative Body chair Anthea Mowat said yesterday.
The BMA put out a statement which warned that NHS subsidiaries will harm staff and services.
Porters, cleaning, catering and IT staff have been moved to wholly-owned subsidiaries. The BMA has voiced strong concerns about the establishment of subsidiary companies by NHS trusts.
This means that the NHS trusts, after unloading the workforce into the subsidiary, can strip them of their NHS contracts and pay them less wages with worse conditions and no NHS pension. A trust in the north-west of England recently agreed to drop plans to transfer more than 900 workers to one such subsidiary company. Wrightington, Wigan and Leigh NHS Foundation Trust was planning to transfer porters, cleaning and catering staff. Strike action forced Wigan Council to abandon their plans.
BMA leader Anthea Mowat continued: 'We are proud to work together, as part of the NHS team, to provide high-quality clinical and non-clinical care and support for patients, their families and carers – we can't work independently of each other. We do not need the unnecessary division and bureaucracy of a wholly-owned subsidiary company splintering our NHS team.'
Meanwhile, under-pressure NHS services in England are spending over £1bn a year buying care from private companies outside of the NHS because they are unable to keep up with demand. The bill is being racked up by hospitals, ambulances and mental health trusts.
NHS managers said money was being wasted, as often buying-in was done at the last minute, and led to the NHS over-paying. Sending patients to private clinics for care like hip and knee surgery is thought to be the most common purchase. In each of the last two years just over £1bn has been spent by NHS trusts on buying health care from non-NHS bodies.
As well as non-emergency operations, the spending is also going on hospitals buying places in care homes to get elderly patients off wards. Ambulances sometimes have to use private crews to transport the less serious patients, and mental health bosses have paid for beds in private hospitals because they have run out of space.