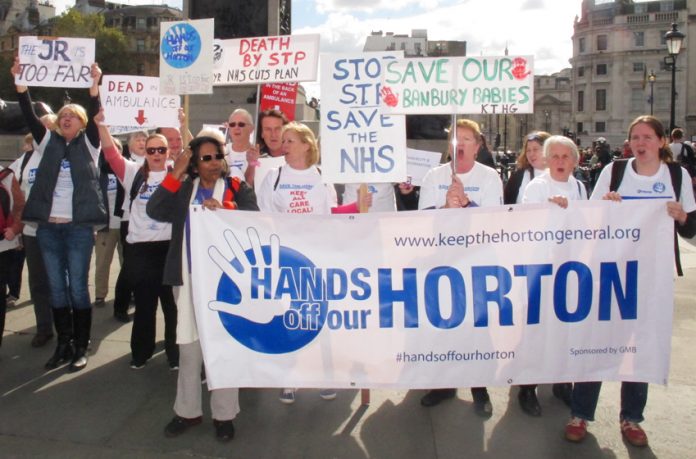 THE NORTH Central London Sustainability and Transformation Plan (STP) has been unveiled, only the second in the country to do so, and it has sent alarm bells ringing throughout the NHS.
Yesterday morning Birmingham City Council became the first to publish the Birmingham and Solihull's STP. Camden and Birmingham councillors have defied advice not to publish. They say that the STP's, rather than transformation plans, are actually cuts plans.
STPs have been designed to deliver Tory health secretary Jeremy Hunt's 'Five Year Forward View'. Camden Council leader Sarah Hayward said she had 'serious reservations' about the STP, which also covers Barnet, Islington, Haringey and Enfield.
Two major London hospitals, the Royal Free and University College London Hospitals – are in North Central London.
Explaining the decision to publish yesterday, Councillor Hayward said there had been 'no political oversight, and minimal public and patient engagement' in the process. She added: 'At present, there is a lack of appropriate focus on adult social care.
'That lack of public, patient and political involvement is why I am publishing this document on our website. It is vital that there is full transparency in Camden as this work progresses.'
Islington Council leader Richard Watts said: 'These are not transformation plans – they are not going to put prevention at the heart of health service. They feel much more like a way of making short term budgetary savings rather than any meaningful way of transforming services.'
NHS campaign group 38 Degrees received a detailed leaked STP plan for one area.
The investigation found a swathe of proposed cuts to frontline services across England, including A&E closures, changes to maternity care, and cuts to hospital beds.
Last week Birmingham City Council's director for people Peter Hay said that the city's STP was focused on 'tackling NHS funding problems' rather than 'a system-wide solution for health and care'. In other words cuts rather than funding!
Meanwhile Victoria Prentis, Tory Member for Parliament for North Oxfordshire, put down an NHS bill in Parliament to scrutinise the decisions of NHS Trusts. "This bill is a result of our experience in Oxfordshire this summer, during which the Oxford University Hospital NHS Foundation Trust suspended consultant-led maternity services at our local general hospital with no warning and no consultation. The Horton General patients are spread across six parliamentary constituency covering a large rural area and some of the most deprived areas of Oxfordshire.'
She added: 'If an emergency arises, our neighbouring mothers will have to be transfered by ambulance to Oxford. It is about 23 miles, the average time taken in a blue light ambulance from door-to-door will between 30 to 45 minutes.
'The traffic is dreadful and unpredictable. When an emergency C-section needs to take place it must be done within thirty minutes.'