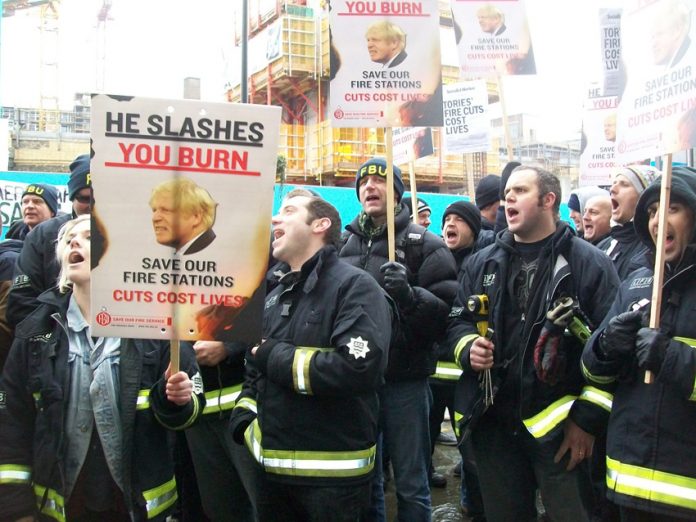 DELEGATES at the TUC Congress in Bournemouth, yesterday took up the cudgels against privatisation and cuts in the fire, prison and probation services, Royal Mail and the railways.
'This motion is about fighting back', Fire Brigades Union General Secretary Matt Wrack told Congress as he moved Motion 39, 'Cuts to the Fire and Rescue Service'.
Wrack said on top of previous cuts 'this government proposes a further 30 per cent cut in the fire service.
'3,600 jobs have already gone.
'It could be 6,000 jobs by the end of this parliament.
'It means that if you dial 999 fire stations might be closed, engines axed and fire fighters gone.
'We are already reaching fires slower than we did.
'There was a huge fire in Smethwick where thirteen fire fighters were injured.
'The West-Midlands fire service was stretched to the limit.
'There was only one engine left for the rest of the area.
'In London, Mayor Johnson wants to force through station closures.
'We are not willing to accept these cuts, we will fight back for our members and the people we serve.
'Earlier this year, Johnson pulled back from cutting two fire stations but ten remain under threat.
'There are similar cuts across the country. On October 16 we are organising a national march through London and we are calling on you all to join us.
'Firefighters need the right training, equipment and resources.
'These cuts are putting the lives of the public and firefighters at risk.
'We are fighting back, stand up for the fire service and all public services.'
Later, in a debate on pensions, Wrack said: 'firefighters are being told to work until they are 60, and have to be fit.'
He said: 'The key issue for us is fitness standards. Any one with common sense knows that fitness gets worse when you get older.'
He warned that firefighters faced fitness tests and 'fire employers said that they will sack firefighters on the basis of capability. 78 per cent of our members have voted for strike action.
'We have not yet called action, our message to the government is that you need to negotiate or face the consequences.'
Communication Workers Union Deputy General Secretary, Dave Ward, moved Motion 44: 'Royal Mail Privatisation', he said: 'For twenty years workers have been fighting proposals to privatise Royal Mail.
'This government has announced it is selling off Royal Mail, in two weeks time we will ballot our members for industrial action over the impact of privatisation.
'The CWU will not settle that dispute unless we reach a legally binding, sustainable agreement for the long-term future.
'Royal Mail made £60 million profit literally on the backs of postal workers. We are confident that our members will stand up against privatisation.
'Our Post Office members have already taken eleven days of strike action over a pay freeze and planned Crown Post Office closures with the loss of hundreds of jobs.
'We can never accept this and we're not having it.'
In a message to Ed Miliband he said: 'Our members are not asking about a new relationship, they are asking when are you going to get off your arse and support us.
'We will be putting a motion at the Labour Party Conference that a Labour government will re-nationalise Royal Mail.'
He concluded with an appeal to the conference: 'We need your support. Royal Mail is not for sale!'