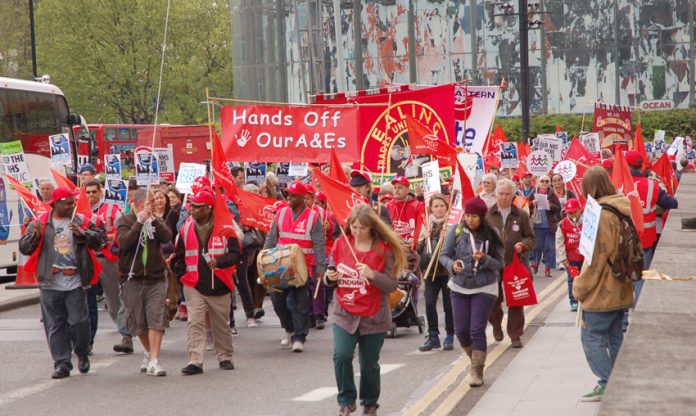 THE NHS watchdog, Monitor, has proposed to import 'production line' surgery techniques from other countries to plug 'gaps' in NHS funding.
Monitor's chief executive David Bennett says that unless this is done the NHS will be bankrupted and unable to close 'the £30bn funding gap' by 2021.
The report, entitled 'Closing the NHS Funding Gap', says that the government should be 'radical' in cutting the NHS by borrowing production line techniques from countries such as India and Mexico.
Bennett advocates the NHS adopting a 'production line' method, with qualified surgeons carrying out only the complex parts of procedures, while cheap labour trainees carry out the bulk of the work.
The Monitor report cites Aravind Eye Care, which runs a network of cataract clinics across India, as an example to follow.
The report states: 'By streamlining the workflow of care to maximise the use of staff skills, Aravind is able to perform 60% of the number of NHS cataract surgeries but at one-sixth of the cost to the NHS.'
Another example that Monitor hold up as a scheme that the NHS can learn from is operating in Ghana.
Patients are encouraged to take photos of ailments using their mobile phones and send them 'for interpretation by a doctor at a different location'.
BMA member Anna Athow commented: 'David Bennett is a former partner at McKinseys, the US management consultants that are key advisers to the government on privatising the NHS.
'He knows nothing about medicine.
'As CE of the new market regulator, Monitor, introduced by the Health and Social Care Act, he is now giving his opinion on how billions of pounds can be sliced from the NHS budget by lowering patient care standards that are a matter of life and death.
'First he wants to stop the provision of 30 operations on the NHS which he deems ineffective.
'Then he wants care shifted out of hospitals into the community, which simply means the care will not be there.
'Thirdly, he wants to make the remainder of the hospitals reduce their costs by forcing them to compete with private companies doing "production line" surgery, as apparently performed by private companies in India.'
Labour shadow health minister Andy Burnham described this policy as 'market madness' and said Bennett was exposing a 'hidden government agenda'
Burnham added: 'This will send a shiver down many a spine. It confirms the suspicion many people have that David Cameron is softening up the NHS for privatisation.'
A TUC spokesperson responded: 'We are deeply concerned that the government's privatisation plans for the NHS are putting profit before people.
'We have long advanced the position that the government introducing for profit firms into the NHS would be a recipe for disaster.'
Dr Mark Porter, Chair of the BMA Council, said: 'It is refreshing to see an acknowledgment that the policy of meeting the government's efficiency targets by chipping away at staff pay is unsustainable.'
He added: 'At the end of the day though, there is a funding crisis in the NHS and we need to ensure patient care is not compromised in an effort to drive down costs.'