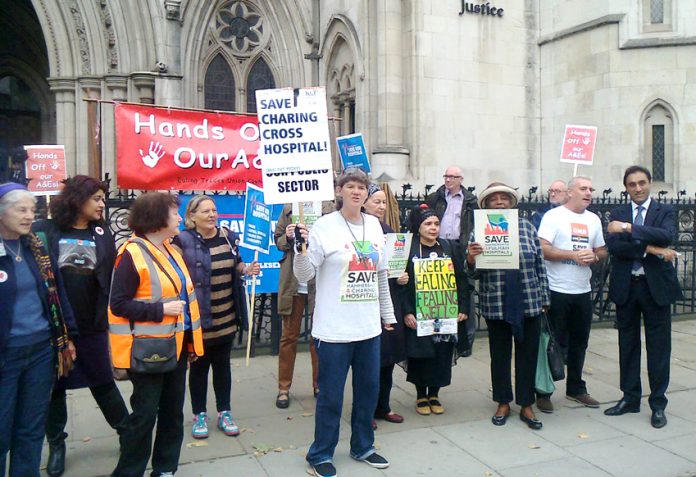 CAMPAIGNERS demonstrated outside the High Court yesterday where Ealing Council were seeking a judicial review of the decision to close Ealing Hospital A&E.
They had a banner saying 'Hands Off Our A&E' and made clear that they are opposed to the closure of four west London A&Es, including Hammersmith, Charing Cross and Central Middlesex as well as Ealing.
They shouted: 'Save Our Hospitals! Whose NHS? Our NHS!'
Dr Onkar Sahota, London Assembly Member for Ealing and Hillingdon, told News Line: 'We're here because we want to be sure we get a full public hearing to demonstrate proposals by NHS London are a disaster for the people of west London and ill-founded.
'It was a flawed consultation process based on assumptions which are unsustainable. What's behind this agenda are NHS cuts rather than patient care.'
Colin Stanfield, Chair of Ealing Hospital Save Our Services campaign, said: 'We're here expecting justice today. The plans are not backed by the majority of clinical opinion in Ealing.
'They are not even backed by the Ealing CCG (Clinical Commissioning Group) who want to keep Ealing as a major hospital.
'And of course these flawed and botched plans are opposed massively by the population of Ealing and by the population across north west London.'
Dean Gilligan, Ealing GMB Branch Secretary, told News Line: 'Today we're here to give voice for the court to change the review panel's decision and to gain an immediate judicial review for the 1.7 million people who are affected by the threatened north-west London closures.
'The government are selling off the NHS bit by bit and are aiming to sell it off completely.
'Look how quickly the government sold off Royal Mail. That's a warning in the clearest terms.
'The unions have to get the message out. We need a general strike. There is a lot of movement for that in the TUC at the moment.'
Eve Acorn, campaigner and patient at Ealing and Charing Cross Hospitals, said: 'I'm very concerned because those are the two hospitals that would be hardest hit.
'They want to knock them down, build flats and build what they call a local hospital on a fraction of the site. It won't be much more than a clinic.'