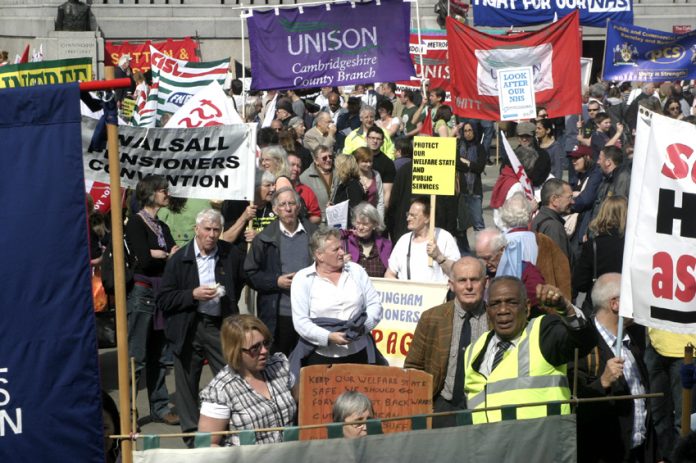 'This is nothing less than a manifesto to break up our public services, smuggled out while all attention is focused on the misdeeds of News International,' TUC General Secretary Brendan Barber said yesterday.
Barber said the Open Public Services White Paper launched by Tory Prime Minister Cameron would mean wholesale privatisation.
'On the day Southern Cross's failure underlines just how dangerous introducing the profit motive into public services can be, people should be very afraid at what these proposals could mean,' said the TUC leader.
He added: 'when the Prime Minister talks of charities and voluntary groups, he means parceling up public services for private companies; when he talks of ending top-down control, he really means introducing a postcode lottery with few winning tickets.'
PCS union leader Mark Serwotka said: 'This has nothing to do with people power, it's about handing more of our public services over to private companies so they can make massive profits at taxpayers' expense.'
Unison General Secretary Dave Prentis said: 'The government wants to wash its hands of providing people with decent public services.
'The collapse today of home care owners, Southern Cross, should act as a grim warning about what can happen when the private sector takes over.
'The bottom line should not be profit but public services run by committed public service staff.'
In a speech in east London yesterday, Cameron launched Tory coalition plans for private companies, charities and other groups to bid to run everything from local health services to parks.
Only two areas are exempt from the mass privatisation programme: 'national security' (police and armed forces) and the judiciary.
Cameron said he was 'releasing the grip of state control'.
On the same day as Cameron was launching the White Paper, shares in the care homes privateer Southern Cross were suspended.
The company, which sold off its homes to rent them back, announced that all its landlords were pulling out of the group.
A company statement confirmed that it would cease being responsible for the homes' residents.
'Although still subject to the possibility of further change, it is currently envisaged that the existing group will cease to be an operator of homes at the end of the restructuring period,' said a statement.
'This will be a major upheaval and tragedy for people living and working in these homes,' said Unison leader Dave Prentis.
Over 750 homes with 31,000 residents are run by Southern Cross.
GMB National Officer Justin Bowden, representing care home workers, said: 'For Southern Cross's 31,000 residents and 43,000 staff this looks like a case of "out of the frying pan, into the fire''.
'These 80 landlords are a rag-bag bunch whose number includes overseas interests, tax dodgers and in some case "identity still unknown''.
'Many themselves are in financial difficulties.
'All this spells months of more uncertainty and worry for residents and staff.
'Where is government in this care scandal?
'The ears of the 31,000 elderly and vulnerable residents and 43,000 staff must be ringing from the deafening silence from Downing Street.
'The government instead is publishing a White Paper which says the future for all public services is outsourcing.
'Meanwhile back in the real world this is what happens when the private sector is given access to public money.'