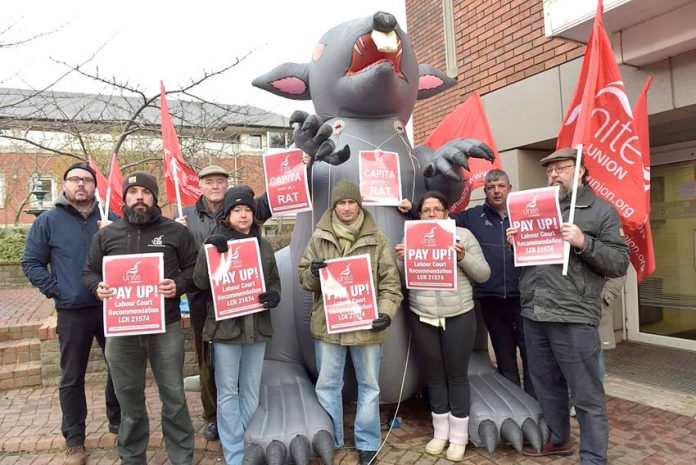 PRIVATE outsourcing firm Capita has 'put patients at risk of serious harm' a damning report by the National Audit Office (NAO) states, which the doctors' union BMA said is 'nothing short of scandalous'. Capita, whose share price dropped by 40% in a single day of trading at the beginning of February is under threat.
Unite warned yesterday that the NHS faces a 'Pandora's Box of Carillion-type meltdowns'.
Capita took over the delivery of Primary Care Support England (PCSE) functions in 2015. As a result services for doctors, dentists, opticians and pharmacists were all put at risk. The NAO report outlines a litany of failures while GPs have called on NHS England to strip Capita of the support services contract.
The failures include:
• Newly qualified GPs not being able to begin work for months while they wait for Capita to provide their registration documents. • 400,000 clinical letters went missing due to the handover of GP support services to Capita. • Capita also processed pension contributions from GPs for the NHS Pension Scheme. Money from the GPs' pension fund was unaccounted for.
The BMA in March submitted a Freedom of Information request to NHS England regarding alleged 'unallocated' GP pensions money. The request focused on the 'value and whereabouts of unallocated monies'.
The new NAO report has found GP 'practitioners are still experiencing widespread failures, with key concerns focusing on Capita's management of the National Performers List, GP pensions and payments to opticians.'
Responding to the report, Dr Richard Vautrey, BMA GP committee England chair, said: 'This damning report lays bare the scale of the failures impacting patients, services and GPs due to this poorly thought-out and woefully-run programme delivered by Capita.
'That NHS England ignored the BMA's serious concerns and went ahead with massive cost-cutting by commissioning Capita to take charge of PCSE – with the expectation that they'd have to strip resources to the bone – with no thought of the consequences is nothing short of scandalous.'
A statement from Meg Hillier MP, Chair of the Committee of Public Accounts said: 'Trying to slash costs by more than a third at the same time as implementing a raft of modernisation measures was over-ambitious, disruptive for thousands of doctors, dentists, opticians and pharmacists and potentially put patients at risk of serious harm.
'Neither NHS England nor Capita properly understood the scale of the challenge before agreeing the contract and are still in dispute over future payments. 'Yet again this is poor contracting by government with one of its major suppliers and it must learn lessons.'
Unite national officer for health Colenzo Jarrett-Thorpe said: 'The National Audit Office has performed a sterling public service in pinpointing the glaring failings in the Capita contract. 'This scathing report once more highlights the folly of privatising NHS services where the profit motive trumps patient care – the time has come for the government to say "enough is enough".
'The NAO findings are given extra pungency by yesterday's excoriating report by two Commons select committees into the collapse of outsourcing giant Carillion in January. 'How many more reports are needed to reinforce the case that the privatisation of NHS services short-changes patients in particular and the taxpayer in general?'
Dave Wiltshire, Secretary of the All Trades Unions Alliance, said: 'NHS privatisation cost lives! All private outsourcing companies including Capita must be driven out of the NHS through nationwide strike action to bring this government down.'