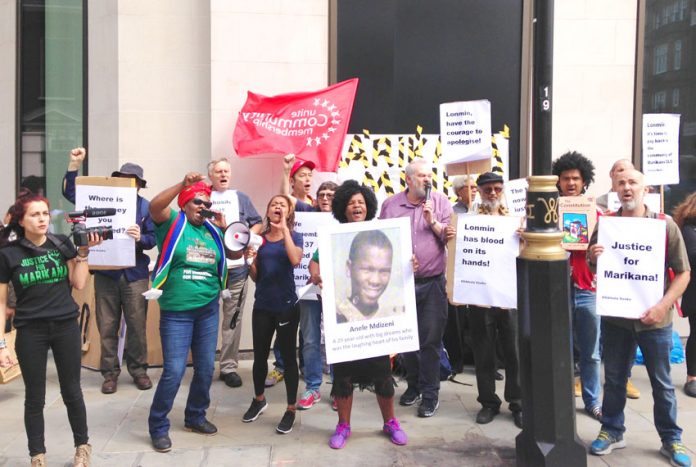 'LONMIN – Blood on your hands! Justice for Marikana now! Amandla!' shouted a lively protest outside the London-listed mining company's office in Mayfair yesterday lunchtime.
The protest was called to mark the fifth anniversary of the Marikana Massacre, when 37 striking miners were shot dead by South African police. Leading the demonstration were officers from the South African community organisation Sikhala Sonkae.
Primrose Sonti, the former chairperson of Sikhala Sonkae, told News Line: 'We are fighting for the rights of the people and the miners. We are fighting for better living conditions. We want better wages for the miners. They are working very, very hard, but are very poor.
'They need a wage rise. We will never forget the massacre. The government police killed its own people, when all they were demanding was a decent life. We want a change – everything has to change. The UK trade unions must say something about this. After five years of the massacre nothing has happened. We need peace in our country.'
Thumeka Mae Wangrama, current chair of Sikhala Sonkae, added: 'We've come here to Britain to tour with the film "Strike a Rock". We are picketing the Lonmin office today for our people who were massacred by Lonmin and the government of South Africa. We are still fighting because there is no change after the massacre.
'After they killed the 37 miners, we have been neglected by the government of South Africa and Lonmin. They did not pay any attention to the people that were affected by the massacre. Living conditions are terrible, the place is filthy. People are living in shacks – there is no sanitation, no running water, no electricity. We want proper houses, which the government has promised. AMCU (trade union) is taking action – they are the ones who defended the workers.'
One of the demonstrators, NHS worker Florence Durrant, said: 'If any member of the community tries to stand up and fight they will silence him. Lonmin mines are destroying people's lives. They massacred innocent people rather than paying them the living wage which they can easily afford. They are just laughing at poor people. The South African government is totally in collusion with Lonmin. The victims' families still haven't received compensation – not the houses they were promised, and there's no running water, no electricity, no toilets.'
Protesters handed out leaflets saying that Lonmin and the ANC government must make a public apology for the massacre, pay reparations to the dependants of the deceased miners and the injured and arrested ones who survived. They call for the police, especially those at the top, to be prosecuted for their role in the events of August 16th 2012.
They demand that 16th August must be declared a national holiday and for Lonmin to comply with its obligations to provide affordable housing for mineworkers and the community.