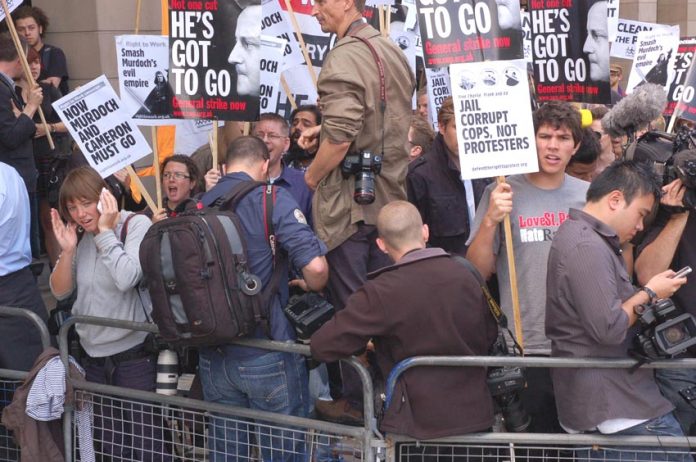 JAMES Murdoch came under further pressure yesterday as two Labour MPs suggested he may have lied to the House of Commons Culture, Media and Sport Select Committee on Tuesday.
This came in the wake of a statement issued by two former top executives of News of the World.
The editor of the News of the World at the time it folded on July 10, Colin Myler, and the paper's former head of legal affairs, Tom Crone, said that 'James Murdoch's recollection of what he was told when agreeing to settle the Gordon Taylor litigation was mistaken'.
They insisted that he had seen the 'for Neville' email from Taylor's lawyers.
In a statement posted on News Corp's website, James Murdoch said: 'I stand by my testimony to the select committee.'
Labour MP Chris Bryant has written to News International non-executive directors calling on them to suspend the Murdochs from the company's board as not being fit to hold office.
Bryant pointed out that lying to parliament is an imprisonable offence and alleged the Taylor case would have revealed the extent of the phone hacking, and the £700,000 paid to Taylor was 'so as to prevent that disclosure' (see page 2).
Labour MP Tom Watson, who had questioned James Murdoch over the extent of phone hacking, said yesterday he is formally referring James Murdoch to the police over his disputed evidence.
The Metropolitan Police confirmed that Watson's request for an investigation into the disputed evidence 'was being considered'.
Watson said that if Myers and Clone's statement 'is accurate it shows James Murdoch had knowledge that others were involved in hacking as early as 2008'.
Watson added that 'it shows he failed to act to discipline staff or initiate an internal investigation, which undermines Rupert Murdoch's evidence to our committee that the company had a zero tolerance to wrongdoing.'
The West Bromwich MP alleged that a confidentiality clause involved in the out of court settlement 'means that he bought the silence of Gordon Taylor and that could mean he is facing investigation for perverting the course of justice.'
The Tory chairman of the select committee, John Whittingdale, said: 'Clearly what Tom Crone and Colin Myler say conflicts with what James Murdoch told the committee.'
He added that the 'for Neville' email 'was always regarded by the committee as one of the most important pieces of evidence suggesting there was wider involvement than just one reporter.'
Whittingdale said the committee already expected a written response from James Murdoch on a number of points for which he had not had the information when questioned.
The MP added: 'When he responds to the committee, which I expect him to do fairly shortly, I will ask him to address the conflict between his version and theirs and clarify his remarks. We will wait to see how he responds.'
Asked about Watson's referral of the matter to the police, Whittingdale said: 'There is an ongoing police inquiry. I'm sure the police will have been watching the evidence we received from Rebekah Brooks, from James Murdoch and Rupert Murdoch.
'I would imagine they would also be aware of this latest development.'
He said it was helpful for Watson to raise the matter with the police who 'are following all of these matters very closely'.
Meanwhile, the Milly Dowler family's lawyer, Mark Lewis, has complained to police that he has been followed.
In other developments, News International lawyers Harbottle and Lewis have been given permission by the company to answer questions from Parliament or Scotland Yard.
It is believed Harbottle and Lewis saw 300 of 2,500 emails gathered by News International executives examining the phone hacking issue before it wrote an allegedly inaccurate letter to MPs saying illegal activities had been confined to a single rogue reporter.
Prime minister Cameron said yesterday that James Murdoch 'has got questions to answer in Parliament' and News International 'has got some big issues to deal with and a mess to clear up, that has to be done by the management of that company'.