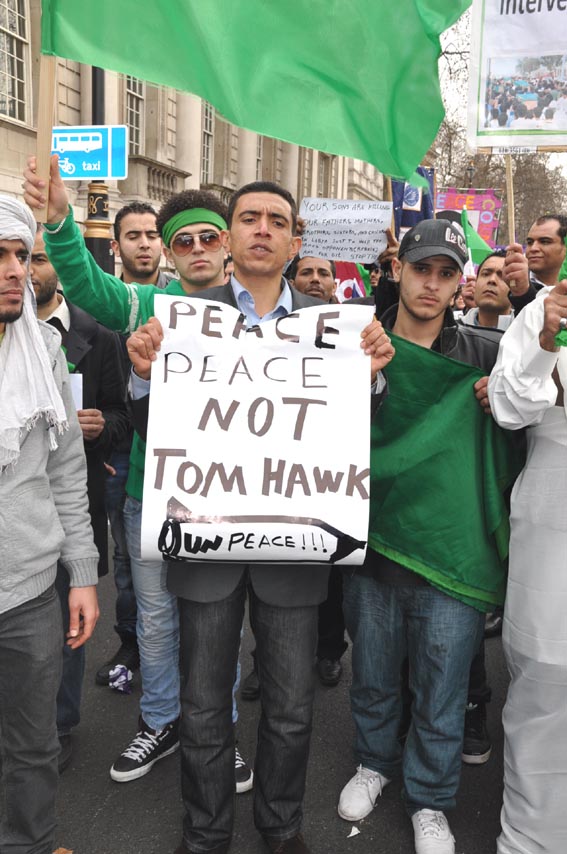 LIBYAN leader Mu'ammar al-Gadaffi rejected any dialogue with his enemies in a speech broadcast by Libyan TV, captioned as a 'live' audio address, at 18.46 gmt on 21 July.
Al-Gadaffi's defiant, 10-minute speech to a rally in the city of Sirte, on the coast between Tripoli and Benghazi, was received by loud cheers from the crowd, and celebratory firing of rounds.
The leader engaged with members of the crowd in his customary manner, assuring them that the voices of the 'free, strong' Libyan people would prevail.
Gadaffi said: 'The beloved people of dear Sirte, in this new one-million man rally, the rally of challenge, the rally of defiance, from Sirte, which always takes the frontline during confrontation; Sirte, which sacrificed the largest number of martyrs in 100 years, from 1911 till 2011.
'This is glory and pride for the tribes of Sirte.
'Martyrs stand on the road of glory and dignity every day, the road of freedom; the road of glory, resistance and defiance.
'Greetings and congratulations to the families of the martyrs of the tribes of Sirte, pride and glory shall be yours!
'I would like to salute dear Sirte and its dear and standing tribes: Wurfan, Wafurjan, Qrabaya, Awadlah, Wafi, Zayan, Misratah, Suwawa, Qudas, Sulayman, Amamra, Badan, Hamamlah, Jamaat, Magharbah, Hussun, Mashafyah – the lions of the Mount, I salute these tribes!
'This is what is required at this historical glorious time; this challenge, I see the Jamaat tribe, and see all the banners (addresses a woman) and bless you daughter who has written with henna on her hands.
'We are facing unjust aggression, but millions have rallied to prove to NATO that their attempts are doomed.
'We do not fear their planes, they have bombed every place, and have used all types of modern weapons thinking we shall be intimidated and scared, and that we shall panic and surrender; but we replied by saying "to hell with you", and the women of Sirte said: "Your aircraft only raise the challenge."'
Addressing a girl in the crowd, Gadaffi said: 'Bless you daughter, may God grant you a long life, this girl was born in hours of glory.
'We say to them you should feel embarrassed, ashamed, awed; and be convinced you naive tyrants.
'Look at these million-people rallies, all Libyan people have taken to the streets; I told you millions would march with me, look at these millions who have taken to the streets and squares.
'Who is capable of confronting these millions?
'You can come with all your aircraft and armies, but you will not be able to confront an army of millions.
'This is the first time in history that you will be confronted by millions of armed people.
'The battle has been settled in favour of the people, there is absolutely no way NATO can defeat you; they shall be defeated and retreat.
'This is a hopeless battle for them, they should face it; they used to rely on traitors, fools, people with no dignity, religion or nationalism.
'NATO relies on traitors.'
Addressing someone from the crowd, Gadaffi says: 'I'd sacrifice my soul for you, bless you, bless you.
'But the Benghazi masses shall trample on the traitors with their shoes. Tomorrow free Awaqir and strong Jawazi tribes shall march to liberate Benghazi.
'Flee while there is still time for you to flee! Flee quickly before it is too late, because the masses will march on you and will trample you with their feet.
'The masses shall show you no mercy, even if Mu'ammar al-Gadaffi shows you mercy, the masses shall not show you mercy because you are traitors, because you have destroyed the country and called in colonialism, you sold it, you traitors, for your personal gain, you fools, you ignorant people, you failures. Who are you? Who are you?
'You traitors who have brought NATO to your homes?
'Disgrace and shame on you! But our tribes do not accept disgrace, they shall erase it; the people of Benghazi shall march.'
Addressing a woman in the crowd, he says: 'Bless you daughter, I can see the henna and can see what you have written: "No dialogue… till Judgment Day".
'So, they must be convinced that their battle is a lost one, it is hopeless; they have absolutely no hope.
'They should return to their bases defeated; I do not talk to them, there shall be no dialogue between me and them till Judgment Day, the Libyan people are the ones who talk to them, the voices of the free, strong people of Libya.
'Here are the Libyan people replying to them; no matter what they do, they shall fail.
'The remaining number of Libyan people who have not managed to march in Benghazi and Darnah is only 100,000 people, and this is because they are being controlled by armed gangs, who rule them by fire and iron.
'They cannot march. As for the rest of the Libyan people, they have marched in their millions, in one-million rallies as you can now see, Allahu Akbar (God is Great), forward! Forward!
'I salute Jihadist Sirte, the frontline of defiance, the one who sacrifices the largest number of martyrs. Forward! I salute you.'
Meanwhile, the Libyan Foreign Minister Abdel Aati Al Obeidi on Friday 22 July briefed India on various initiatives to resolve the crisis there with New Delhi calling for immediate cessation of all hostilities and supporting a peaceful resolution of the Libyan crisis through dialogue.
Obeidi met Indian Minister of State for External Affairs E Ahmed and briefed him on the latest developments in Libya and the status of various initiatives for resolving the crisis in Libya, a ministry release said.
Ahmed reiterated India's position which calls for 'immediate cessation of all hostilities in Libya and supports peaceful resolution of the Libyan crisis through dialogue, taking into account the legitimate aspirations of the people of Libya.'
He conveyed to Obeidi India's consistent stand to maintain unity and territorial integrity of Libya.
He also expressed support for the African Union-High Level Ad-hoc Committee initiatives and the African Union Road Map for the peaceful and consensual resolution of the conflict.
The visit of Obeidi comes amid intensified efforts to find a peaceful solution to end the conflict in Libya, which has faced NATO air strikes for the past few months following the defiance of leader Muammar Gaddafi, who has ruled out talks with rebels who are calling for an end to his 41-year rule.