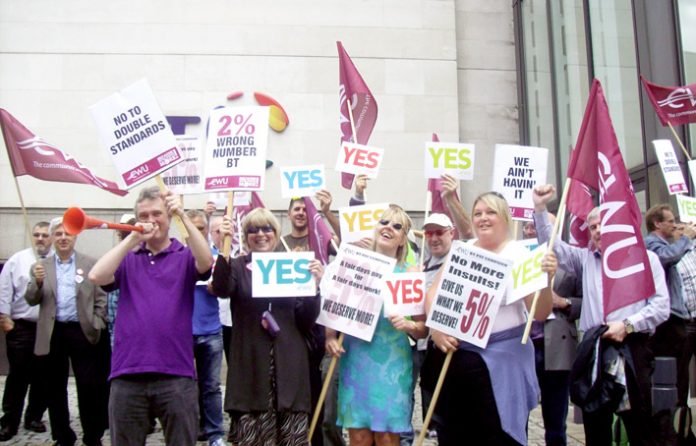 One Hundred BT workers and their supporters staged a lunchtime rally outside the BT centre in central London yesterday having begun their ballot for strike action against BT's 2% pay offer.
The rally incorporated a lively march around the BT centre where passing motorists tooting their horns were met with the BT workers cheering and sounding their own South African style Vuvuzela's.
BT workers are furious at the management's offer of a 2% pay rise which when compared to the spiralling cost of living is a severe pay cut.
Vice-President of the CWU David Bowman told News Line : 'We are here to further the campaign implementing the 5% pay claim.
'BT have made huge profits of £5.78bn yet they are offering us 2% for 2010.
'The Retail Price Index (RPI) is at 4.4% – therefore in real terms this is a 2.4% pay cut!
'At the same time Ian Livingston, chief executive of BT was awarded a pay rise of 6% which takes his wages to £850,000 a year plus a £1.2m bonus.
'What we are upset about is the double standards being shown.
'I am absolutely sure that if this dispute ends up with strike action other trade unions will come to our support.
'Our union policy is for the re-nationalisation of the whole Telecommunications industry.'
Mark Baulch who is on the National Executive of the CWU and is a leader in the postal workers struggle told News Line: 'We have come down to show solidarity in these times of struggle.
'The government in our case just wants their hands on our pension scheme. It is the country's largest funded pension scheme with assets in the region of £26bn.
'The BT workers face a similar attacks to the postal workers. Similarly we had a pay freeze imposed on us last year.
'When Labour were in, Mandelson attempted to privatise Royal Mail.
'All the Tories have done is to pick up the same report and they also want to privatise Royal Mail.
'The Royal Mail has been a political football for thirty odd years and this is the fourth or fifth attempt to privatise Royal Mail.
'We will do everything we can to defeat the privatisation plans and the mass destruction of the postal industry.
'It is time to stop talking and start fighting!'
A CWU rep and BT engineer Joe Brennan said: 'Everything is going up and things are becoming more and more of a struggle.
'I have kids that are just leaving University.
'They have loans to pay off and I don't know how they are going to afford their first flat.
'I can see them still living at home until they are thirty.
'So if the BT workers wages do not even keep up with the RPI then we are quickly going down the toilet.
'If you have a decent job like working for BT then you should be able to afford the necessities of life.
'I definitely believe that the ballot for strike action will be a "yes" vote and then if BT do not see sense, which I don't think that they will, then we will be on strike.
'We know BT have the money, they made the profits they are just being greedy.'