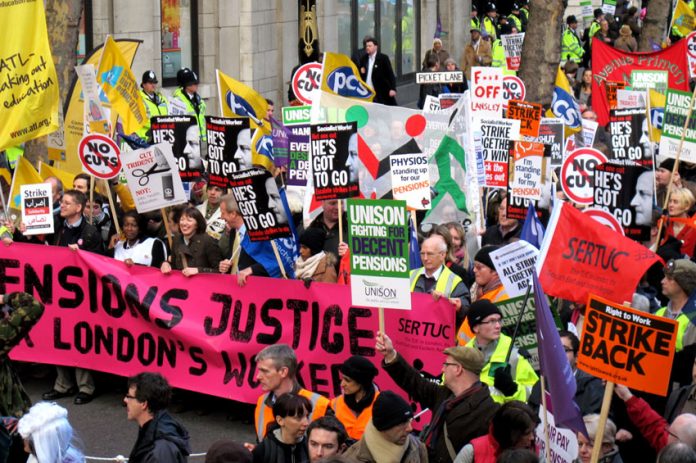 'The new pensions proposals will hit the pockets of thousands of nurses, paramedics, occupational therapists and other key NHS staff hard', Unison warned yesterday.
The union criticised the timing of the government's announcement as 'unhelpful' when pensions negotiations are still ongoing.
Under the proposals, 530,000 staff earning between £15,000 and £26,557 would be spared any rise in pension contributions next year.
This would be paid for by asking staff earning earning between £26,558 and £48,982 to contribute 8% of their monthly salary next year, up from 6.5% now.
Unison Head of Health Christina McAnea said: 'The proposed increase in pension contributions will still hit more than half of all NHS staff who are already struggling to cope with the pay freeze and rising inflation.
'The one-year delay before making the lower paid contribute more, is cold comfort.
'Having an increase looming large when the cost of everyday essentials like food and heating is rising so fast is a nightmare for cash-strapped families.
'With pay frozen until 2013 and limited to 1% a year until 2015, we estimate that the value of nurses, paramedics and other NHS workers' pay will have plummeted 16% by the time the cap ends.'
The union said it 'remains committed to continue negotiations to achieve a fair pension deal', but is 'critical of the increasingly tight deadlines imposed by government.'
McAnea went on to say: 'I am beginning to question if government ministers are serious about reaching a deal.
'We are in the middle of tricky negotiations where the goalposts keep moving and where the timetable looks increasingly unrealistic.'
Dr Hamish Meldrum, Chairman of Council at the BMA, said: 'The NHS pension is already under a major attack, despite being overhauled only three years ago and delivering billions to the Treasury.
'The majority of staff would be even worse off under this change.
'It is inconceivable that the government can claim to have come up with this idea "having listened to staff".
'Thousands of doctors and medical students, along with other NHS workers, responded to consultation urging the government against further contribution increases.
'The announcement of an even steeper hike will intensify the anger they are already feeling.
'There is already a system of tiered contributions in the NHS pension scheme, with the highest paid staff paying most.
'Doctors contribute up to 8.5% of their pay for their pensions – among the highest in the public sector. That figure could be as high as 14.5% by 2014. There is no justification for this, particularly when the final salary pension is to be replaced with a career average scheme.
'The government claims to want to reach a solution via dialogue. If that's the case it's ridiculous that it can announce a proposal like this without raising it in negotiations.'
At the conclusion of negotiations, the BMA will seek its members' views on whether or not they think the offer available is acceptable and, if not, what action they would be prepared to take.
Rehana Azam, GMB National Officer for NHS, said: 'This movement in NHS pensions is not enough to settle the pensions dispute.
'This move merely represents a moving round of the furniture and does not represent any change in government policy to unfairly tax public sector workers who are saving for their retirement.'
The Public and Commercial Services union (PCS) said that strict parameters have been set across all sectors by ministers Francis Maude and Danny Alexander, who have not met the unions since November 2nd.
The union has been told there is no more money available and this week it was confirmed key areas are non-negotiable, meaning civil and public servants would have to pay more and work longer for less in retirement, and other unions are being told the same.
The PCS national executive met this week and confirmed that, if no improved offer is made, it will be proposing further strike action 'as early as possible' in the new year.