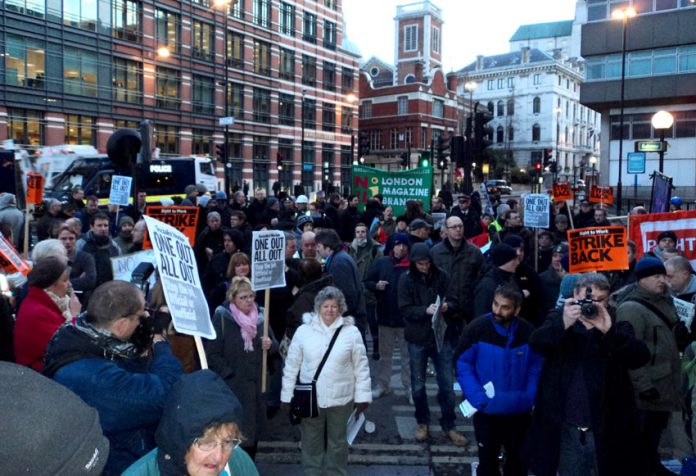 ANGRY electricians fighting 35% pay cuts imposed by a 'cartel' of seven major building contractors led by Balfour Beatty, went on strike at construction sites in London, Cardiff, Manchester, Merseyside, Glasgow, Hull and North East Lincolnshire yesterday morning.
Unite members at Balfour Beatty had voted 82% in favour of strike action and official strike action had been expected yesterday.
But after Balfour Beatty Engineering Services challenged the ballot Unite ordered a re-ballot and said it did not officially back yesterday's strike action.
However, an estimated 200 workers picketed the Conoco oil refinery in Immingham, North East Lincolnshire and in Glasgow there was a mass demonstration outside the Balfour Beatty HQ.
More than 300 angry sparks picketed the Balfour Beatty Crossrail site at Blackfriars Station in central London, while walkouts also took place at sites all over the country, including St Catherine's Hospital in Merseyside, Manchester Central Library, Kelvin Hall School in Hull and a hospital in Cardiff.
RMT General Secretary Bob Crow told the pickets at Blackfriars: 'Call on the TUC to call a massive demonstration down here and if Unite puts out a call we will mobilise RMT activists from all over the country.'
Leading electrician Dave said: 'There's been an 82 per cent vote. Let's make it clear, this is not a protest it's a picket. This job is shut!
'The message from around the country today is that Balfour Beatty has been shut down by the rank and file.'
Unite London Region Construction Branch Secretary, Steve Kelly told News Line: 'We're angry at the union for calling another ballot. It wasn't an injunction, it was just the threat of an injunction.
'Balfour Beatty disputed it saying 25 people hadn't been balloted. But it would have made no difference whatsoever. The vote was 384 in favour and 81 against, so even if they'd all voted NO, it would have made no odds.
'Now the result of this next ballot won't be known until 6th January, so it's more delaying tactics by Unite.
'They've capitulated. It's similar to what they did at BA. They should have ignored the injunction threat and proceeded with the strike.'
Ian said: 'All Unite electricians should be balloted nationally. It's time for a change at the top of the union, the hierarchy has become detached from the members, if they haven't got the fire in their belly for a fight, then they should have the dignity to step aside.'
Howard said: 'It's a disgrace that they've backed down on just the threat of an injunction. Rather than back down at the first sign of trouble they should have called the whole country out.
'We're trying to get more people to join us and now they see the union backing down, it's the worst possible message.'
Kevin said: 'They've backed down at a mere threat and they've given Balfour Beatty more strength. We're all construction workers fighting the same attack and in order to defeat it we need a national strike now.'
John said: 'The union should have been stronger. They are saying they didn't send out voting packs to some people and they say they are now going to ballot three companies. Why don't they ballot everyone, instead of messing around!
'There are too many jobs at risk to be messing around, this is a nationwide struggle, so it has to be a nationwide strike.'
Alan said: 'I think people should and will still come out. They can delay things only for so long. But there should be a national strike ballot, one out all out, every site in the country out.'
Mick said: 'Basically, Balfour Beatty are just another company trying to make money off the backs of working people.'