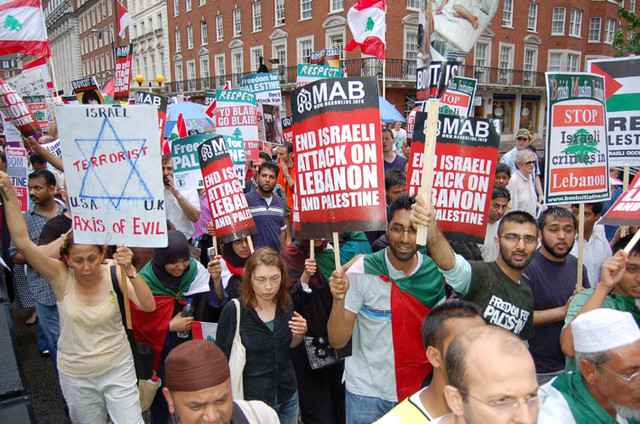 Five Israeli soldiers were killed yesterday afternoon as ferocious resistance by Hezbollah fighters held off their attempts to advance into southern Lebanon.
Hezbollah also said it had destroyed eight Israeli tanks in the border villages.
Three of the Israeli soldiers were killed in a missile attack.
Israel however continued to lash out in a frenzy.
An Israeli air strike on the village of Qaa near Lebanon's north-eastern border with Syria yesterday afternoon killed at least 28 farm workers and injured 30 others.
The victims of the latest Zionist atrocity against the Lebanese people were taken to hospitals in Syria.
Lebanese civil defence officials said the farm workers were loading a container with fruit and vegetables when it was struck.
Hezbollah retaliated by firing 40 rockets on north Israel.
Israel insists that it has so far taken control of a zone containing 20 villages 6 km to 7 km from the border.
This has been greeted with widespread scepticism since fighting is still taking place near to the border with Israel, and rockets have been fired into Israel from within the allegedly subdued area.
With France seeking to get a cease-fire resolution accepted at the UN Security Council, the Israeli general staff were desperate to advance and establish their 'security zone'.
This desperation is certain to increase the numbers of casualties that the Israeli army is taking.
The Israeli military is saying it has a plan to clear a 15 km security area in southern Lebanon.
This is after having advanced just a few kilometres into the Lebanon in a month!
Israel now has more than 10,000 soldiers trying to advance into southern Lebanon.
Meanwhile early yesterday morning, one Lebanese soldier was killed and three others wounded when Israeli warplanes struck targets in Ouzai, a Shia suburb of south Beirut.
Israeli jets also bombed four bridges along Lebanon's coastal highway that connects the capital with the north of the country and Syria.
Other strikes hit targets near Baalbek, east Lebanon and the Lebanese-Syrian border crossing at Masna'a, east of Beirut.
l In Iraq, tens of thousands rallied in Baghdad to show their support for Hezbollah.
Organisers said about 250,000 people had gathered from all over Iraq for the rally called by militant anti-occupation cleric Moqtada Al-Sadr in Sadr City, a poor working class district.
Sadr's supporters waved Hezbollah's yellow flags and chanted 'Death to Israel!' and 'Death to America!'
Iraq's national television said the puppet defence ministry had approved the demonstration, a sign of the public anger over Israel's offensive in Lebanon.