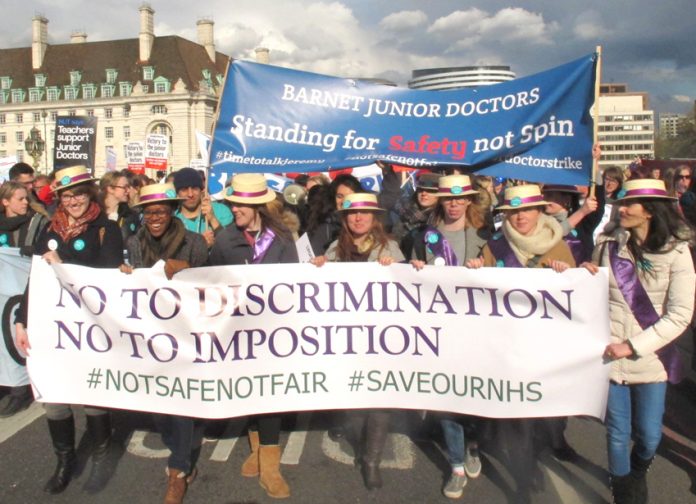 HEALTH Secretary Jeremy Hunt took a step back yesterday and said he is willing to pause the imposition of the junior doctors' contract in England for five days from Monday to allow for talks after an appeal by the Academy of Royal Colleges.
A few hours earlier a Department of Health spokesperson had said: 'It is now too late to change the process of bringing in contracts.' But speaking in the House of Lords at midday, the health minister Lord Prior of Brampton said Hunt was willing to 'pause' the introduction of the new contract and hold talks, while insisting that weekend pay must be on the agenda.
Responding to the government's agreement to re-enter talks with the BMA, Dr Johann Malawana, BMA junior doctor chair, said: 'Junior doctors have said since the outset that we want to reach a negotiated agreement, and have repeatedly urged the government to re-enter talks.
'As suggested by the Academy, we are keen to restart talks with an open mind. It is critical to find a way forward on all the outstanding issues – which are more than just pay – and hope that a new offer is made that can break the impasse.'
These developments came after the Academy of Medical Royal Colleges, representing 22 medical colleges and faculties had proposed a five-day pause in the dispute so talks can resume.
Professor Dame Sue Bailey, its chairwoman, said: 'A five-day pause without "ifs, buts or maybes", and with both sides in the dispute publicly committing to a serious attempt to reach a resolution through genuine dialogue, is obviously the only way out of this impasse.'
The Department of Health yesterday published Hunt's reply to Professor Bailey. He wrote: 'We will pause introduction of the new contract for five days from Monday should the Junior Doctors' Committee agree to return to talks. I have already made clear we are happy to address with the BMA a range of non-contractual issues.
'I would therefore expect that discussion of the contractual issues will need to be focussed on areas that the Junior Doctors' Committee (JDC) of the BMA and NHS Employers agreed were outstanding in February; and not revisiting the 90% of issues that were agreed, including the cost neutrality of the contract.'
Earlier, responding to the DoH's first refusal of talks, BMA junior doctor member Mohammed Latif told News Line: 'We junior doctors must stand firm and if necessary proceed with further strike action if that's what it takes to preserve the NHS. A Day of Action being called by the TUC would fall within the interests of the BMA and the junior doctors that it represents. We need the support of all the unions to defend the NHS.'
A PCS civil servants' union spokesman said: 'The way the government is treating the junior doctors is utterly disgraceful. We support them 100% and they deserve the widest possible support from all trade unions.
'We are calling on the TUC to organise a national day of action in support of the junior doctors and our NHS to increase the pressure on the government to see reason.'