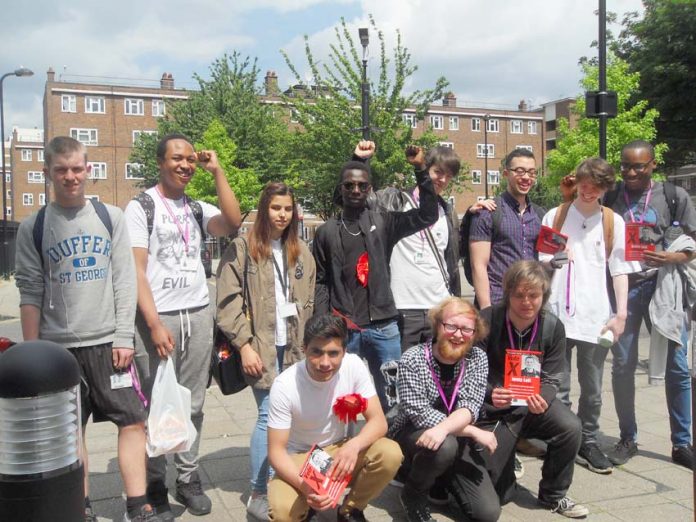 STUDENTS enthusiastically joined the campaign to elect Jonty Leff as WRP candidate for Hackney South and Shoreditch yesterday.
They campaigned hard, giving out leaflets, speaking to both fellow students, lecturers and passers-by about the issues which they feel strongly about: university fees, jobs and getting rid of capitalism.
Boran Pisiren, studying catering at Hackney Community College said: 'The government is attacking young people. Why should I pay over £9,000 a year to get knowledge? I do not see the point of that, knowledge must be free. There is not a lot of jobs for young people. My cousins have studied at university but there are no jobs for them on graduation. They have jobs but they are working in Next, Tesco and other shops and you do not need a degree for that.
'This government has to go. It is not helping us. They just make us go around in circles of debt, unemployment and studies. I am voting for Jonty Leff because I agree with all the policies of the Workers Revolutionary Party. That is why I have joined in the campaign today. My dad is a socialist, my mum is a socialist, my whole family are socialists.
'They tried to evict my family from our council estate when we owed just £103 in rent arrears. The bailiffs came around and I was by myself and he was pushing and shoving me. He tried to put his foot in the door. I was wearing slippers and he was wearing steel toe-capped boots and he just kicked my toes. He tried stepping into the house without showing me a warrant. He called the police and they never came. We managed to stay in our home after a big struggle. These bailiffs operate like gangsters. This entire system operates on behalf of the rich and it needs to go.'
Esther Paulo, studying health and social care said: 'Health care must always be free. It must remain free forever. Not everyone can afford private health care. This government is trying to bring in fees for treatment on the NHS. I want to be a nurse in the future and work in the NHS. This is why I support the campaign to elect the WRP candidate. This campaign to kick the Tories out must be a success.'
Dominique Williams also studying health and social care added: 'I also want to work for the NHS. It is about time that the theories of Marxism come to life and are put into practice. It will be amazing to get a different sort of future.'
Kacper Lewis said: 'Anyone but the Tories! This system is very unfair and there are more cuts coming. I have decided to join the campaign to elect Jonty Leff and I am coming out on Friday to take part in the lunch-time team outside my college.'