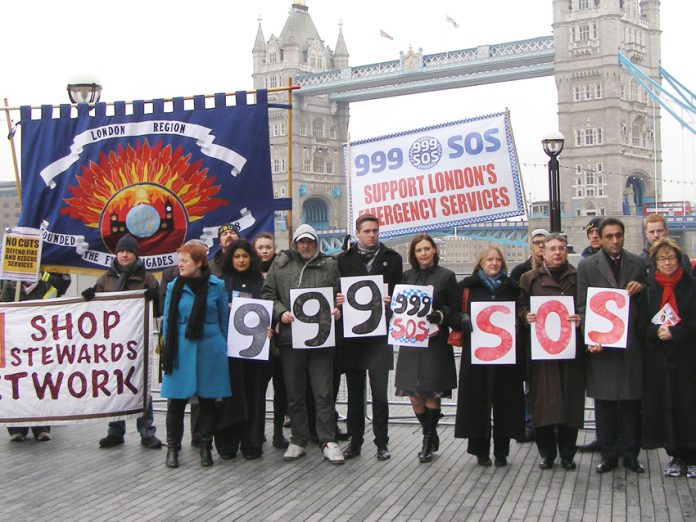 LINCOLNSHIRE Fire Brigades Union and the GMB trade union yesterday expressed concern over plans to use firefighters as A&E first responders.
The FBU said it could lead to local communities being left 'short of fire cover'.
East Midlands Ambulance Service has been fined for missing response times.
Lincolnshire Fire and Rescue Service (LFRS) and East Midlands Ambulance Service (EMAS) have put forward a joint bid for funding to the government's Transformation Challenge Award.
EMAS and LFRS want the government to fund a £490,000 12-month pilot scheme in selected rural areas. It will be the first of its kind in the UK.
Their joint statement said: 'In addition to their current role, the proposal would see some firefighter co-responders being mobilised to a co-responder medical incident in an ambulance-type vehicle giving them the capability of conveying a patient to hospital.'
Critics believe the new scheme will put lives in danger. Lincolnshire FBU branch secretary Karl McKee warned: 'There is the potential for problems.
'We are concerned, using firefighters to transport casualties to hospital A&Es will leave firefighters tied up at hospitals.
'The fear is that this will leave communities short of fire cover.
'It could lead to an either/or situation, but the public pay for both a fire service and ambulance service, not either one or the other.'
GMB National Officer Rehana Azam told News Line: 'There are plenty of cuts taking place in the fire service. This will add a further burden to the fire brigade.
'Why don't we let the 999 emergency workers get on with their jobs and invest in all the emergency services.
'The government must invest in frontline services.'
Meanwhile, the ambulance unions Unison, Unite and GMB were yesterday attending talks with NHS Employers who have imposed cuts to sick pay by up to 25 per cent for 35,000 ambulance workers in England from 1st September.
The meeting was to avert possible official strike ballots in this dispute. There may be further talks on Tuesday 17th September.
The GMB Ambulance Committee welcomed the support by TUC Congress which backed a GMB emergency motion which set out how NHS employers had imposed cuts to ambulance workers pay by up to 25 per cent.
Before going into the talks, Rehana Azam said: 'NHS employers have claimed that it is only fair to have the same approach to sick pay as all workers covered under a national agreement.
'Yet NHS Employers fail to accept that ambulance workers have for some years worked under different arrangements as a result of previous reforms carried out by NHS Employers to the national agreement.'
She added: 'NHS Employers have made a big claim about working in partnership, yet they have taken nearly two weeks to get round the table to discuss what is now becoming a very serious matter. This is not the way to work in partnership.'
Azam told News Line after yesterday's talks: 'Nothing was resolved today. The NHS employers are going to talk to the Ambulance employers.
'We are asking the employers to stop their imposition and retain the status quo until an amicable way is worked out.
'If the employers don't do this they will continue to back us into a corner and we will have no alternative but to continue with arrangements to ballot members for strike action.'