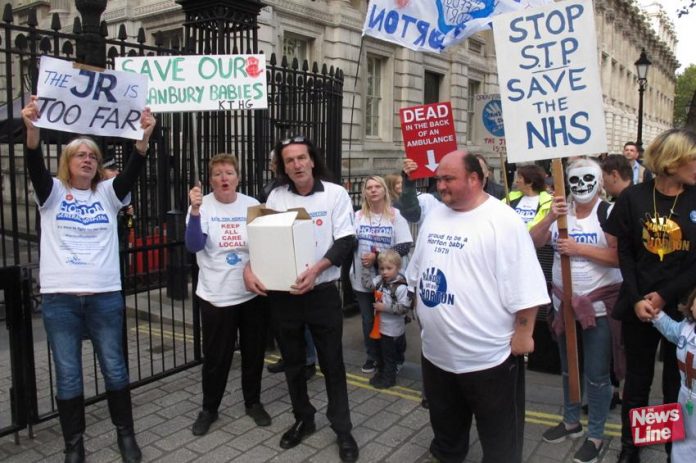 CAMPAIGNERS fighting the closure of maternity services in Lincolnshire say they will 'not back down!'
Plans to remove consultant-led services in Boston and 'centralise them' in Lincoln due to a shortage of trained staff were revealed in a report earlier this month. Boston Support for Neonates and Parents and Preemies (Snapps) said the move will put babies and mothers lives at risk.
Lincolnshire county councillors voted against the proposals last Friday. Under the proposed changes, which include downgrading some local A&E services at Grantham hospital, women with complicated pregnancies and premature babies would have to travel 35 miles to Lincoln for care.
Alison Marriott, whose two-and-a-half-year-old daughter was born prematurely at Pilgrim Hospital Boston's maternity unit, said: 'Without the doctors and nurses who were there my daughter wouldn't have survived.
'My daughter was born floppy and blue, not breathing. She needed to be on a ventilator and without that she wouldn't have survived. She had to be delivered in 15 minutes to save her life and that also saved her from brain damage. So she's a happy, healthy child. We mustn't lose the unit here. There will be too many babies that will be lost.'
Lead campaigner for Snapps, Emma Wilcock, who has four children, said: 'Pilgrim Hospital saved my baby's life and my life, because my life was in danger also. Our biggest fear is mothers and babies being put at risk.' Wilcock said parents across the county relied on the unit and would fight to save it. 'We won't stop. There is no stopping us and we will not back down.'
• THE nurse recruitment crisis 'risks reaching catastrophic proportions' nurses union the Royal College of Nursing warned yesterday, adding that we cannot let 'the staffing crisis deteriorate past the point of no return.'
The RCN points to the Tory move to end student nurses' and midwives' bursaries as having a detrimental effect on recruiting the next generation of nurses into the NHS. Stephanie Aiken, Deputy Director of Nursing for the RCN said: 'This research chimes with our warnings about a perfect storm engulfing the NHS in the future, when the current nursing recruitment crisis risks reaching catastrophic proportions.
'It will give us no pleasure if we are proved right. With an ageing population, and more people living with multiple complex conditions, we will need more graduate, registered nurses than ever.
'Patients can be put at risk when there are too few staff. The government's decision to charge fees to nursing students in England and replace NHS bursaries with student loans from September appears, from figures given to The Times this weekend, to have led to a large drop in applications for nursing places.
'. . . It is not enough for the government simply to hope that more people apply to be nurses when all the available evidence shows that they will not do so. This is a very worrying situation that could cause the staffing crisis to deteriorate past the point of no return.'