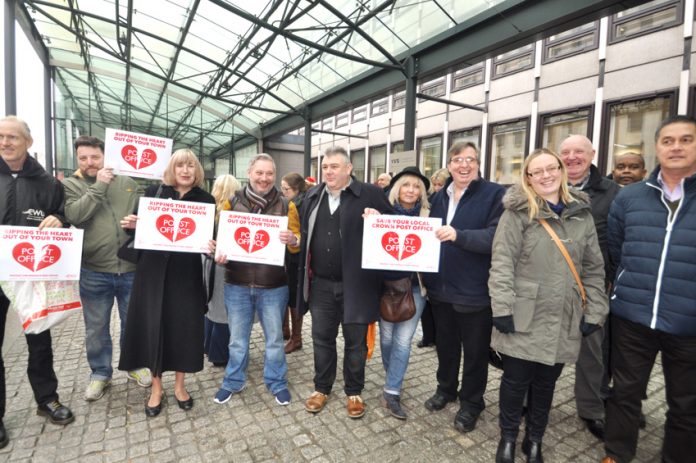 'UNLESS we fight now, the future of the whole of the Post Office network is threatened. The high street Post Offices will no longer exist,' Dave Ward, General Secretary of the CWU, said yesterday.
He was speaking at a mass rally outside the Department of Business, Energy and Industrial Strategy during the 24 hour nationwide Post Office strike.
Thousands of Post Office workers walked out at 6am yesterday morning in offices across the country, the strike continues today. They are out on strike again on Saturday, Xmas Eve. The Post Office supply chain workers come out on strike for two days, this Thursday and Friday.
The strike is over job cuts, the closure of the final salary pension scheme, and the closure and privatisation of Crown Post Offices. The CWU warn that every single Crown Post Office is threatened with closure.
'It is important that people remember,' Ward continued, 'that the government still own the Post Office. Royal Mail was privatised but the government are the body that own the Post Office.
'They are sitting behind the company that are putting forward these plans for closure and the franchising of high street post officers so it is important that the government intervene.
'All the government choose to do is the old model, the failed model of privatisation by the back door, franchising, getting rid of good quality jobs, the good services that we provide and replacing them with minimum wage jobs.
'This is a case study of everything that is wrong in Britain in the world of work today, where we drive ourselves into the race to the bottom because we have no vision for the future.'
When asked whether this was a political strike, he said: 'We would never sacrifice our members in some higher political objective. This is a fight about the future of our industry, our members' jobs, the services they provide to communities and their pensions and I would not be interested in that type of approach.
'Do I think that the government needs to be held to account on many of the issues which are taking place in the UK today – yes I do. The Post Office is in crisis, the railways are in crisis, the NHS is in crisis. The government have got a lot to answer for.'
At the rally the Post Office handed in 70,000 individually signed postcards in support of Crown Post Offices.
Paul Clays, CWU North East Regional Secretary, told News Line: 'It's an absolute disgrace the way loyal public servants are being treated. To close Crown Post Offices and take our members' jobs and pensions in the weeks leading up to Christmas is disgusting.'
Des Arthur, CWU Branch Secretary, Midlands Postal, said: 'We are here to send a message to the government that the Postal Service has to be protected for future generations. We have a week of strikes starting today and I hope we can create a storm with the public to turn the government's hand.'
Steve Reid, CWU Branch secretary, Birmingham District AMAL, said: 'We are protecting the Post Office, a British institution, and our High Street Crowns and if we don't get a positive response the strikes will be stepped up after Christmas.'
Addressing the rally, CWU General Secretary Ward said: 'Our members are striking for their industry and the future of local post offices. We offered to suspend this strike if we could get round the table but we were only offered one day in January, that is a sham. Franchised post offices only replace good quality jobs with zero-hours work. We ain't going nowhere and will fight for the future of the Post Office.'
CWU Deputy General Secretary Terry Pullinger said: 'Defending the Crown Post Offices is absolutely vital because the money they generate supports the whole sub-post office network. This is a hugely important dispute and this national treasure will become buried treasure if it is not defended. We are proud to be taking this industrial action and will not back away from this campaign.'