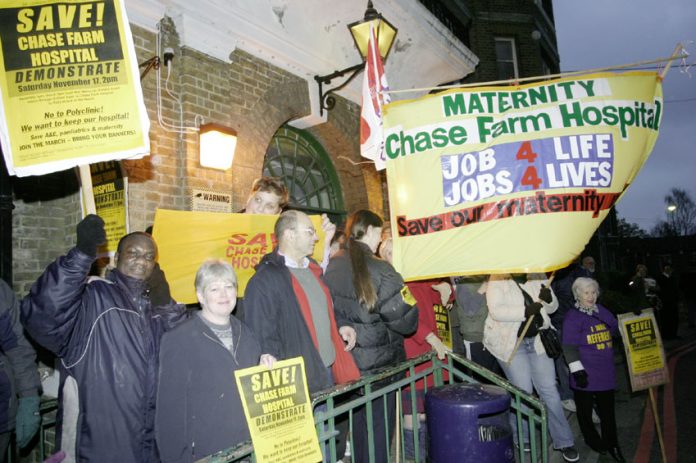 NHS London has given the go-ahead for plans to close Chase Farm Hospital A&E and the consultant-led Maternity and Paediatrics departments, despite massive opposition from staff, patients and local residents.
An NHS London press release on Wednesday said the health authority 'today agreed with a review led by GPs in Barnet, Enfield and Haringey that planned changes to hospital services in the area have met the four tests set by the Secretary of State'.
The statement conceded that concerns have been raised by 'Enfield Council and residents living close to Chase Farm Hospital who feel that services should remain in their current locations'.
The North East London Council of Action – which has held a well-supported five-year campaign of regular pickets, marches and public meetings – said it will continue its fight and will organise an occupation to keep all the hospital's departments open.
Council of Action secretary Bill Rogers said: 'We won't let them close Chase Farm.
'NHS London's claims are wrong – local doctors oppose the plans as well as the whole local community.
'Thousands of workers and youth have expressed their opposition to these cuts and closures in mass marches through Enfield over the last five years.
'We set up the Council of Action because we understood that the decision to run down and close Chase Farm was a political one, nothing to do with clinical reasons.
'There's £20bn of cuts coming across the board in the NHS, along with the wholesale introduction of privatisation via the new Health Bill.
'We will organise an occupation to stop the closure; and, also, the health and other unions have to step up the fight to defend the NHS.'
• Unison yesterday called for an end to PFI projects in the light of a survey which found that since 2007 over 20 per cent of NHS trusts in England have either closed or plan to close A&E departments to pay off PFI debts.
a Unison spokeswoman told News Line: 'The government is telling the NHS to find £20bn cuts but trusts saddled with sky-high PFI costs have little room for manoeuvre in their budgets.
'We can now see the dire consequences of Tory cuts with A&E departments closing.
'PFI has always been a disastrous experiment and should be terminated.
'Local people will be up in arms as more NHS services start to disappear.'