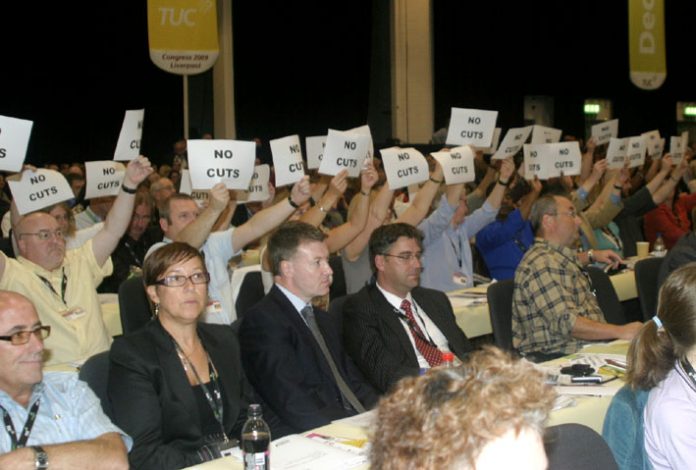 GORDON BROWN had a very cool reception at the TUC yesterday.
The mood was set by the PCS delegation, which held up placards saying 'No cuts'.
Steelworkers held a banner saying 'Save Our Steel' and Vestas workers were in the visitors' gallery demanding action on their jobs.
At the end of his speech, Brown failed to achieve the traditional standing ovation from the whole conference.
In fact, just a few delegates, mostly from the Unite union, applauded him standing up.
In his speech, Brown emphasised the need to work together.
He claimed: 'We faced the Tories down and we have been shown to have done the right thing by hardworking British families.
'But there are still choices to make where we need to work together.
'The recovery is not automatic and the road to recovery is still fragile.'
He added: 'I say to the British people: don't allow anyone to put the recovery at risk.'
He went on to warn: 'I must tell you the tough truth about the hard choices that we have to make.'
He stressed: 'Labour will cut costs, cut inefficiencies, cut unnecessary programmes and cut lower priority budgets.'
He claimed: 'The choice is between Labour, who will not put the recovery at risk, and improve your front line choices and make the right choices for low and middle-income families in the country, and the Conservative Party, which would reduce public services at the very time they are needed most and make across the board public spending cuts to pay for tax cuts for the wealthiest few.'
He went on to say: 'Labour believes that there must be a fair distribution of the risks and the rewards.
'And so today I tell you we will be saving up to £500 million over the next three years by reforming Whitehall's early exit scheme pay-outs for early retirement.'
He added: 'I am calling on all public authorities to make similar reviews of their terms.'
TUC General Secretary Brendan Barber put out a statement afterwards, claiming: 'This was a jobs versus cuts speech and he chose jobs.'
There was a short question and answer session after Brown's speech, where unions asked him for assurances on public services, pay and support for Ellesmere Port and Luton car workers.
Hugh Lanning, of the PCS, told News Line: 'I'm really disappointed that he picked on our civil service for cuts in the conditions of service and redundancy payments.
'They are seeking to impose this without agreement.'
Another PCS delegate, Kevin McHugh, said: 'He's also encouraged local authorities to attack the compensation payments for over a million and a half local government workers.
'We're consulting our members at the moment, but we may take industrial action.
'We have paid for these compensation rates in reductions in pay over the years.'
Phil Brennan, GMB Remploy senior steward in Scotland, said Brown's speech was 'long in rhetoric, short in content. He promised nothing.
'His only selling point is we won't be as bad as the Tories.
'All he is saying is: "we are going to make public sector cuts across all the services''. I don't believe him when he says it won't involve front line services.
'I think that Labour has lost the next election.
'The trade unions should reorganise and start a new party.
'Labour has abandoned the trade unions.'
Brennan agreed that there should be general strike action to defend jobs and wages.
Zita Holbourne, a member of the PCS national executive, said: 'It was a load of rubbish.
'His talk about efficiency is about cutting front line services in the civil service.
'Realistic pay settlements for whom? Not for low-paid civil servants.
'Further action is something we need to discuss with our members.'
FBU President Mick Shaw told News Line: 'We would hope the commitment not to cut front line services will include the fire service.
'But based on our experience of this week, with significant job losses being announced in Warwickshire and Merseyside, we remain sceptical.'
A CWU delegate put to Brown: 'I will have to wait another five years to get my deferred wages. Royal Mail spent 13 years not contributing to the pension scheme. As the government owns Royal Mail, can the prime minister say how or when he intends to address the problem of Royal Mail pension schemes?'
Answering the question on Royal Mail first, Brown said: 'We want to ensure a viable Royal Mail.
'But we have to give some security to the pension fund.
'We want to see a future for mail services.
'That can only be achieved by discussions on the best way forward.
'We've got to think of how we can take action together.'
On the issue of Vauxhalls, he said: 'We have faith in the future of the new model, the Astra.
'We'll continue to support the car industry in Ellesmere Port and Luton.'
He said he wanted to talk to GM about introducing their eco-friendly electric car.
He said: 'We will be discussing the financing of Magna's operation across Europe.'
Mark Smith, a sacked Vestas worker, told News Line: 'I did not think a lot to Brown's speech.
'He talked about green jobs, saving families and mortgages and supporting the workers.
'But he's done nothing whatsoever for the Vestas workers. It just makes you angry. It makes all of us very angry.
'And all the unions were allowed to ask questions, but not the RMT.'