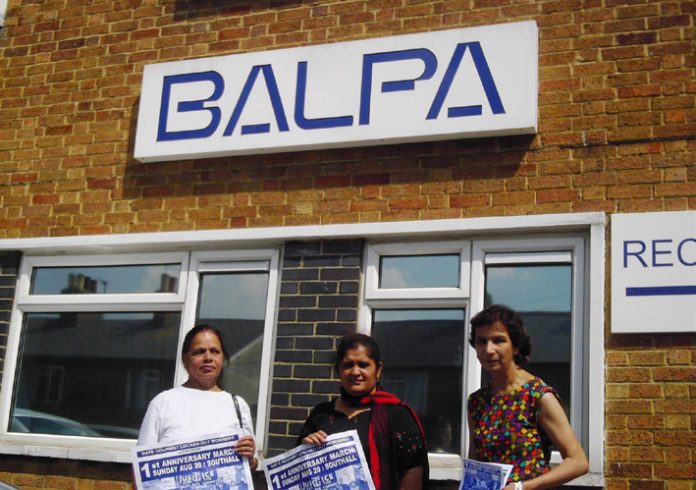 BRITISH Airline Pilots Association (BALPA) chief negotiator Pete James bought his ticket yesterday for the Gate Gourmet locked-out workers anniversary rally in Southall on Sunday 20th of August.
He said: 'I wish you well and agree that your victory will be important for all airport workers.'
Asked about the BMi pilots' strike ballot in defence of pensions rights, James told News Line: 'There is certainly going to be a big struggle.'
The locked-out workers left leaflets and posters publicising their march and rally at the BALPA HQ in Harlington near Heathrow Airport yesterday.
Parmjit Bains told News Line: 'We are campaigning in Southall on Sunday and we want to invite everyone, please come to our rally and give us support like they did in the December rally.
'People gave us lots of support joining our march and cheering us but now it's even more serious.
'Now is the decisive time, there are so many struggles breaking out on the airport now and that makes our struggle even more important. When we win, it will be a victory for all workers, especially airport workers.'
Raj Sahdev said: 'I want to win my case. The tribunals are being heard in November and we believe that they will find that we were unfairly dismissed.
'I want my job back on the same terms and conditions and I want all the money I have lost since I was unfairly dismissed.
'Tony Woodley (TGWU General Secretary) has tried to stab us in the back by signing the Compromise Agreement with the company and cutting our hardship payments. We say sack Tony Woodley.'
• Second news story
KILLER POLICE RETURN TO DUTY
The cousin of Jean Charles de Menezes yesterday condemned the decision of the Metropolitan Police to reinstate the two police firearms officers involved in the fatal shooting of the young Brazilian to 'full operational duties'.
The announcement comes just six days after the anniversary of de Menezes' murder at Stockwell Tube station on July 22nd last year.
Alex Pereira told News Line: 'It's an abuse of power. They use their power to help themselves.
'It's wrong, an investigation is going on.
'They should be in jail not working again.
'The police didn't make any excuse for their decision. We will prove they are wrong.
'The CPS (Crown Prosection Service) said they don't have enough evidence but they lie about the police.
'The officers shouldn't be doing their job, they should be out of it for ever.
'The police show no respect.'
Asad Rehman, spokesman for the Justice4Jean Campaign, said the family was 'very, very upset' and described the decision as 'premature'.
'Every day it seems that the Metropolitan Police just rub more salt in the wounds,' he added.
In a statement, New Scotland Yard said: 'Following the decision by the Crown Prosecution Service that no individual officers should face any criminal proceedings regarding the shooting of Jean Charles de Menezes, and due consideration of all available information, the Metropolitan Police has lifted the current restrictions placed upon the two firearms officers.'
No decision has been taken over possible disciplinary proceedings over the shooting.