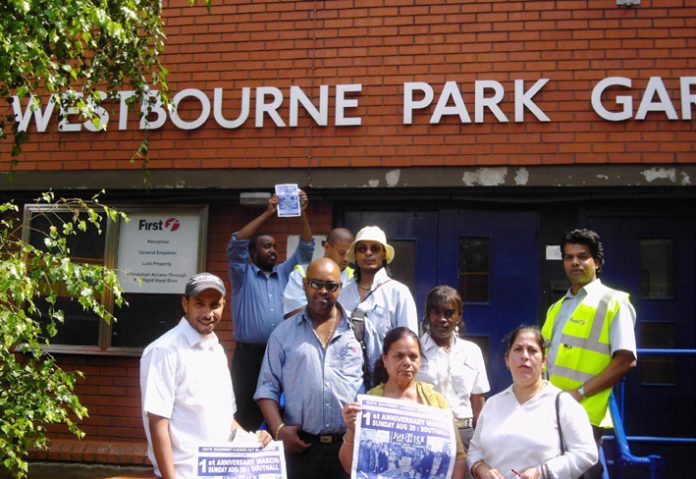 BUS workers and hospital workers supported the Gate Gourmet locked-out workers in west London yesterday and pledged to come to their first anniversary march and rally in Southall on Sunday August 20th.
At Westbourne Park bus garage near Paddington, bus driver Faton Shala told News Line: 'I support these workers, I remember when they got sacked unlawfully last year. I'm shocked that our union leaders are not supporting them properly and will try to come to their rally.'
Bus driver Mark White said: 'Woodley (TGWU General Secretary) doesn't know what he's doing, we want a leadership who will defend jobs and conditions not sell them.'
Fellow TGWU member and bus driver Marie Tedla said: 'If I come in two minutes late it is a written warning and then the sack. We will support these members and come to their rally.'
At Charing Cross Hospital in Hammersmith, Dr Shah made a donation to the locked-out workers and said: 'It's very important to support these workers they must not be taken advantage of.'
Bio-medical scientist Sawan Rahman said: 'I think it's unfair and these workers need support. I will try and come to their rally.'
Ambulanceman Adrian Murphy said: 'If you come back on Monday I will have some money and I will buy my ticket for your rally, I'm tired of being abused by the system.
'As an individual you've got no power, how can it be allowed that they can sack you just like that, I will definitely come to the rally.
'It's about time the workers got the power back, the NHS isn't what it was. We need to smash this government.'
At the end of yesterday's campaign locked-out worker Kuldip Jassal said: 'We were made compulsorily redundant – no choice.'
Raj Sahdev said: 'We tell them all please come to our rally.'