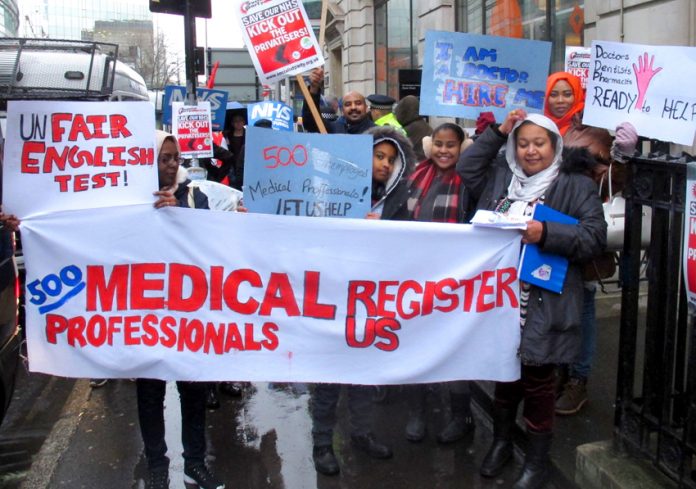 A SEVERE shortfall of both A&E doctors and hospital beds must be tackled, the Royal College of Emergency Medicine (RCEM) said in response to a new report released yesterday which showed that emergency admissions have increased by 42% in just a decade.
One hundred Indian doctors, recruited by the NHS, are ready and waiting to come to England and work in A&E, however, Tory prime minister May vetoed their visa exemptions.
Dr Taj Hassan, President of the RCEM stated: 'We must ensure we have sufficient numbers of senior decision makers in Emergency Medicine. 'By investing well in the workforce strategy that we have agreed, this will help to design the service we need for the future.'
To work in the UK doctors must be on the medical register maintained by the General Medical Council (GMC), and those coming from outside the EU have to pass strict language and competency tests in addition to their visa requirements. Both the GMC and the Royal College of Physicians (RCP) have criticised the government for blocking the entry of doctors when we 'need more doctors to ensure safe staffing levels for patient care.'
The Health Foundation report on emergency admissions found:
• The number of patients admitted urgently to hospital has increased by 42% over the past decade – that's an average of 3.2% per annum. • Patients arriving at A&E are sicker than ever before, and more likely to need admission. This has grown for patients with multiple health conditions, as well as for older patients aged 85 or over, up by 58.9%. • One-in-three patients admitted to hospital in England as an emergency had five or more health conditions, such as heart disease, stroke, type 2 diabetes, dehydration, hip fracture or dementia. This is up from one-in-ten in 2006/07.
• The number of these patients admitted to hospital but discharged on the same day has increased by 373% over the same period. • Hospitals are treating patients more quickly, with overnight stays for those with five or more conditions lasting 10.8 nights compared with 15.8 days a decade previously.
Dr Hassan said: 'We welcome the findings of this excellent report from the Health Foundation.'
On the burning issue of lack of hospital beds Dr Hassan said: 'Patients are getting sicker and our focus must be on the provision of beds in which to treat them. 'We currently have an inadequate bed base – the report notes that we have the third lowest number of beds in the EU, with the second highest level of occupancy – and this must be corrected.'