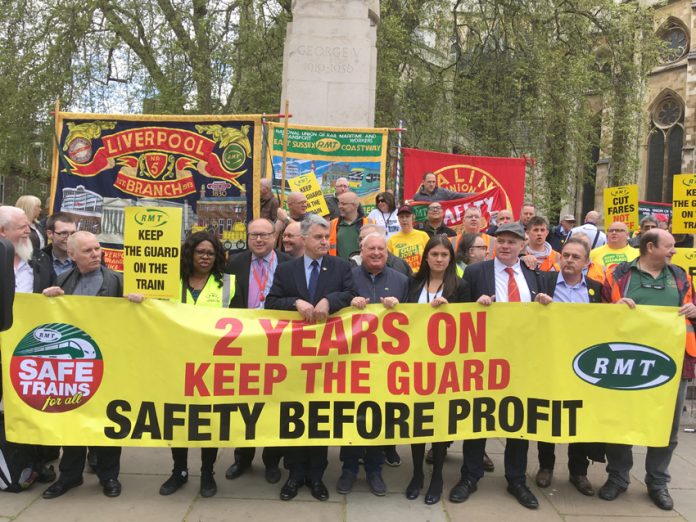 WITH services collapsing into chaos the RMT has demanded publication of contract documentation which shows that Northern Rail get paid whether they run services or not.
The breaking scandal of taxpayer bail-outs for the basket-case Arriva Rail North (ARN) has come on the eve of the latest phase of strike action over guards and safety on Northern Rail trains, The union points out that ARN will even get compensated from the public purse during industrial action – meaning they have no incentive whatsoever to settle the dispute.
Last week, Mayor of Manchester Andy Burnham raised in a letter to Transport Secretary of State, Chris Grayling, that there is a maximum cap of £50,000 per month for fines for cancellations by Arriva Rail North. Given the murky and secretive world of all rail franchises, the figures in the contract are blank but RMT knows from other disputes that it is normal for franchise holders to be reimbursed by the taxpayer during industrial action.
It is also clear that if the company has decided it is cheaper to cancel trains and pay the pitiful level of fines, which barely dent their profits, rather than hire appropriate levels of staff then the taxpayer has to be told why.
It is the same story with other train firms up and down the country with compensation and public subsidy payments to train operators shrouded in a fog of mystery, redaction and obfuscation. Whether it is compensation to cover losses during industrial action, or a cap on losses because they cannot meet their projected income targets, this is the railways version of the banking crisis, where profits are privatised and losses borne by the taxpayer.
Passengers have no way of knowing if the contract is now in default but when the Manchester Mayor says Arriva Rail North cancelled over 2,500 trains in April it is clearly time for the full contract documentation to be published and held up to public scrutiny.
RMT General Secretary Mick Cash said: 'With the continuing chaos on Northern Rail services this week, RMT is demanding that the full contract documentation be published and held up to scrutiny so that we can all see just how much they are being bunged from the public purse.
'The union believes that it is actually cheaper for the company to run shoddy services, or no services at all, and absorb the pitiful levels of fines rather than meet the terms of the contract. That is the one-way ticket to the bank of private rail franchising in Britain writ large.
'We are challenging Chris Grayling and Arriva to publish all the redacted documentation. If they have nothing to hide, then they will have nothing to fear from full public scrutiny. 'German-owned Northern Rail want to run half a million trains a year without a safety critical guard on board in a move that would wreck both safety and access to services.'