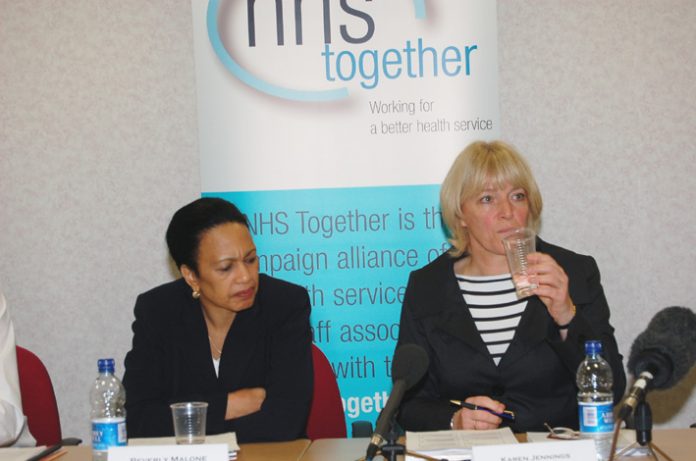 Fourteen trade unions representing nurses, physiotherapists, radiographers, occupational therapists and other NHS staff have joined forces to challenge the government's 1.5 per cent limit on public sector pay increases.
At a press conference at UNISON head office in London yesterday, the unions released joint evidence submitted to the 'independent' Pay Review Body for Nursing and other Health Professions (NOHPRB), which makes recommendations to the government on the level of pay awards for NHS workers.
The unions are demanding a 'substantial above inflation pay award' for their members in 2007 'to reflect the true increase in the cost of living over the past year'.
In their submission to the Pay Review Body (PRB), the unions highlight the real rise in the cost of living for NHS staff including increases in energy costs, housing, council tax and travel, all of which impact disproportionately on lower paid staff.
They point out that bills for fuel and light alone have soared by 29.2 per cent in one year.
There is also 'a worrying fall in morale among NHS staff' because of stress and discrimination, coupled with worries about financial deficits, job insecurity and the 'rapid pace and scale of reforms'.
Karen Jennings, Chair, Staff Side, NHS Executive of Staff Council, said: 'Investing in staff is investing in the future of the NHS and our claim is fair and reasonable.'
She added: 'It is down to the PRB to see the justice of our arguments and to make up their own minds, without interference from Treasury diktat.'
Dr Beverly Malone, General Secretary of the Royal College of Nursing (RCN) said: 'NHS staff should not be used as weapons in the Chancellor's battle against inflation or to balance NHS debts.
'The average nurse earns around £430 a week – significantly less than other public sector workers, such as police officers and teachers. This year NHS staff have seen their pay effectively frozen but day-to-day bills for travel, gas and electricity are continuing to soar.
'Financial deficits, job insecurity and relentless reforms are putting NHS staff under a great deal of pressure, and damaging morale.
'Despite struggling with limited resources, they are working flat out to deliver the very best care to patients.
'Now more than ever, we need to ensure that NHS staff get a fair and decent pay award. The 1.5 per cent the Chancellor is proposing represents a substantial pay cut.'
The submission also provides evidence from Unison and the RCN of between 17,000 to almost 19,000 NHS jobs under threat.
In addition, more than a quarter of the current nursing workforce is due to retire by 2021.
The unions argue: 'Given these two factors, staff side unions warn that a fair and decent pay package is essential if the health service is to be able to recruit new blood and keep existing staff working in the profession.'
Mike Jackson of UNISON told the press conference: 'NHS staff are working unparalleled unpaid overtime. Graduates in the NHS are facing unemployment at unprecedented levels.'
Staff side joint secretary Josie Irwin, RCN, added: 'Staff morale and motivation are falling due to the pace of change and financial pressures. With staff shortages, redundancies and job losses, pay is more important.'
Jackson stressed: 'We are seeking a one year pay deal.'
Union leaders expressed anger over the government's claim that with 'incremental progression' its pay offer is equivalent to a four per cent rise.
Warren Town, Society of Radiographers, said: 'Including incremental progression shows the government is using any excuse to keep pay down.'
GMB national officer Sharon Holder added that the government's offer is 'a pay cut of between 7-10 per cent'.
The RCN's Irwin noted that the PRB will make its recommendation in the New Year and the government should make its offer around March 2007.
She added: 'This year the PRB recommendation goes to a new Public Sector Pay Committee set up by the Treasury, before going to government.'
The unions said they would 'not rule out' industrial action 'if the government interferes with the recommendation of the Pay Review Body'.