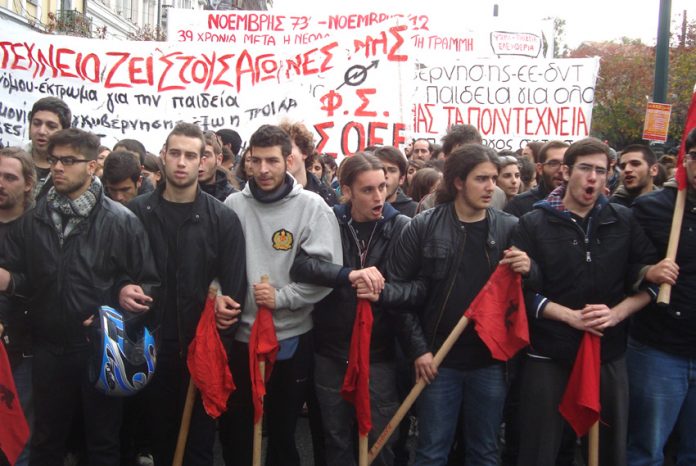 OVER 50,000 students, youth and workers marched through the Athens city centre last Saturday to the American Embassy and then to the Israeli Embassy.
They were commemorating in truly revolutionary and internationalist spirit, the 39th anniversary of the Athens Polytechnic uprising against the military junta in 1973, and supporting the Palestinian masses of Gaza.
Hundreds of riot police and about 15 police buses blocked the road to the Israeli Embassy claiming they were carrying out a government directive. But the determination of the huge march forced the government to order the withdrawal of the riot police and the tens of thousands of demonstrators marched triumphantly chanting 'Free Palestine!' to the 'den of terrorists' as they call the Zionist Embassy.
Earlier in the day, the Greek government ordered top civil servants to electronically delete over 2,000 public sector workers from the pay roll implementing the EC-IMF-ECB diktats. But local government workers have occupied dozens of city halls throughout Greece so that the names of those to be sacked would not be sent to central government.
Greek workers were furious when two municipal workers and a teacher were arrested and placed on trial on Saturday morning in Salonica, the main city in northern Greece, accused of attacking the German Consul last Thursday.
The Court postponed the trial of the three to today as hundreds of workers besieged the Courts building.
A big Polytechnic commemoration march to the American Consulate took place in Salonica on Saturday evening. Mass marches were staged in all Greek cities and towns.
In a newspaper interview published on Saturday the Coalition of the Radical Left (SYRIZA) Alexis Tsipras cynically stated that, 'I think that we are entering the hardest winter we have ever faced, but in the spring we will have political developments,' meaning elections and a SYRIZA-led coalition government. Thus on the day of mass action demanding the overthrow of the government, Tsipras called workers to accept the barbaric austerity measures and wait till next Spring for salvation.
In Athens over 5,000 riot police were placed along the march's route and had formed a ring of protection with buses around the Vouli (Greek parliament) and the American and Zionist Embassies.
Students carrying large banners demanding the overthrow of the government chanted 'Uprising everywhere to kick out the EC and the IMF', 'Uprisings do not belong to museums – forward for our generation's uprisings', 'Freedom to Palestine', 'Americans you are killers of peoples', '60 years of NATO – juntas, wars and terrorism', 'We are the generation of the overthrow' and 'Disobedience – for a general strike.'