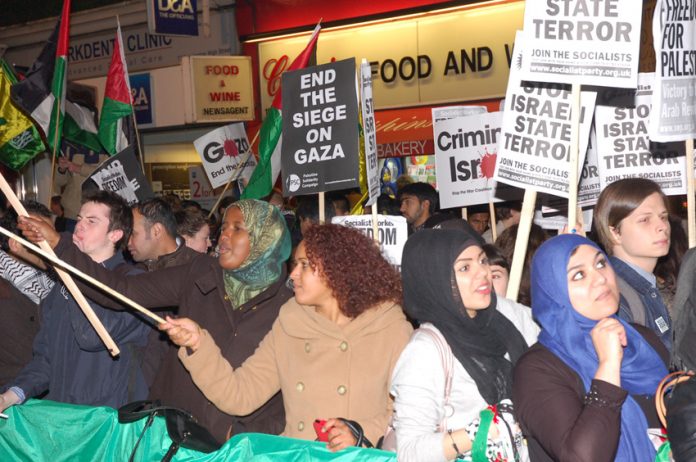 EGYPT will continue to support Gaza against the attacks from the Israeli armed forces, President Mohamed Mursi reiterated yesterday as Israeli airstrikes continued on the Palestinian coastal enclave.
Hamas retaliated with rockets landing in Tel Aviv, and three in the Jerusalem area. No Israelis were injured.
Hundreds of Egyptian protesters converged on the Arab League's Cairo headquarters on Thursday evening to demand an immediate halt to ongoing Israeli military operations in the Gaza Strip and Egypt cut formal relations with Tel Aviv.
'Arm us, arm us and send us to Gaza,' demonstrators chanted. They added: 'Generation after generation, we see you as the enemy, Israel.'
The Palestine Information Centre reported: 'The Israeli occupation army started, on the third day of the aggression on the Gaza Strip, bombing dozens of targets violently and continuously in different parts of the strip, where the number of martyrs, since Wednesday evening, has increased to 22, with more than 255 injured.'
Dr Ashraf Qudra, spokesman for the Health Ministry, stated that the Israeli warplanes targeted a civilian car in the town of Beit Hanoun which led to the martyrdom of three children, Fares Bassiouni, 9, Uday Jamal Nasser, 16, and Tariq Jamal Nasser, 14, in addition to injuring the children's father Nasser.
For his part, the Minister of Health in Gaza Mufid Al-makhllaty stated that 'what is happening in the Gaza Strip is a war crime, bringing back the memory of Furquan war, when 1,520 Palestinians were murdered in cold blood in addition to 5,000 injured.'
'The price will be high if the aggression continues,' President Mursi said after he performed Friday prayers in Fatma Al-Sharbatly Mosque in Cairo's Fifth Settlement.
Mursi continued: 'I say to those, on behalf of all the Egyptian people, that Egypt today is different from yesterday, and the Arabs today are different from yesterday. I say confidently that Egypt will not leave Gaza alone.
'We seek to be a protective shield for our Arab and Islamic nation.
'An official delegation has visited Gaza to express clearly our solidarity with the people of Gaza and state that what affects them, affects us.'
Friday prayers at Al-Azhar mosque in Cairo broke into a protest of thousands, condemning the ongoing attack on the Gaza Strip by Israeli forces.
The protesters demanded that the Arab world end diplomatic ties with Israel, in addition to calling for unity of the Muslim and Arab world in the face of Israel's ongoing aggression against the Gaza Strip.