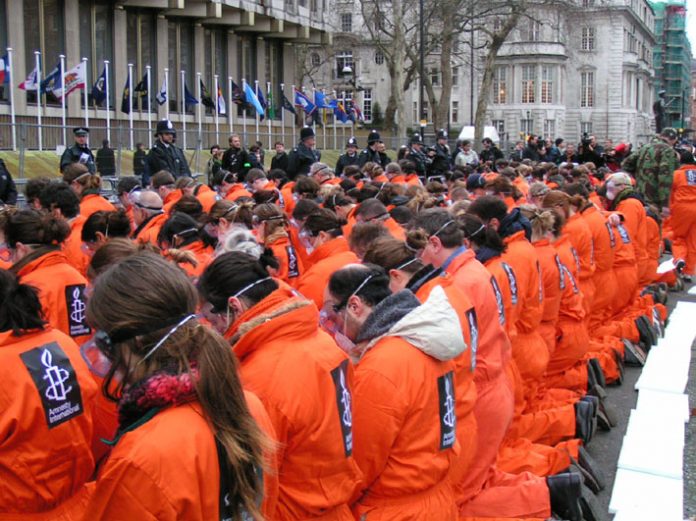 Mohammed el Gharani (imprisoned aged 14) is to be released from Guantánamo Bay, legal charity Reprieve reported on Thursday.
It said: 'Reprieve is thrilled that our client Mohammed el Gharani is to be released from Guantánamo Bay following a federal court order obtained yesterday.
'Judge Leon ruled that Mohammed, who was just 14 when he was imprisoned in Guantánamo in 2002, is not and never has been an enemy combatant, and was wrongfully held at the notorious military prison.
'Reprieve is relieved that Mohammed's seven-year ordeal – which included a litany of terrible abuse – is finally over and that he can return to his family.
Mohammed was sold to the US for bounty, accused of participating in an Al-Qaeda cell in London.
Mohammed has never been to England and would have been 11 years old at the time in question. This case shows how dangerously flawed Guantánamo evidence can be.'
Reprieve director Clive Stafford Smith said: 'It is great that justice has been done at last, but Mohammed spent his teenage years in Guantánamo for crimes which he did not commit.
The idea that he was involved in an Al-Qaeda cell in London – when he has never been to London and at a time when he would have been 11 – suggests that US Intelligence is not worthy of the name.'
Lawyer Cori Crider said:  'Mohammed is an intelligent boy who should have spent his teenage years in school, not learning how to survive a military prison.
'We applaud Judge Leon's decision and wish Mohammed all the best in rebuilding his life.'
Mohammed el Gharani is the youngest remaining juvenile in Guantánamo Bay.
He was just 14 years old when he was seized by the Pakistani authorities and sold to the US military for a bounty.
As a Chad national living in Saudi Arabia, his opportunities for education were extremely limited, so Mohammed had left his home for Pakistan, hoping to learn English and train to work with computers.
Seized in a random raid on a mosque, targeting Arabs and Africans, in Pakistan in October 2001, he is one of 22 juveniles held in Guantánamo Bay since the prison opened in January 2002, according to lists compiled by the US Department of Defense.
Reprieve stressed: 'Mohammed has endured terrible abuse, first in Pakistani custody, and for the last six and half years in US custody, first at the US prison at Kandahar airport and then at Guantánamo, where, he has explained, he has been hung from his wrists on 30 occasions.
'On one occasion a heavily armoured riot squad slammed his head into the floor of his cell, breaking one of his teeth, and on another occasion a cigarette was stubbed out on his arm by an interrogator.
'Mohammed has said that he received constant abuse from some guards at Guantánamo, much stemming from his vocal objection to being called a "nigger" by US military personnel.
'As a result of the violence against him he became deeply depressed, and tried to commit suicide on several occasions.'
In his judgement, Judge Leon said Mohammed el Gharani 'alleges that he is being unlawfully detained by Respondents President George W Bush, Secretary of Defense Robert M Gates, Army Brigade General Jay Hood, and Army Colonel Nelson J Cannon (collectively "respondents" or the "Government").'
The judge added: 'The Government argues that petitioner is lawfully detained because he is an "enemy combatant," who can be held pursuant to the Authorization for Use of Military Force and the President's powers as Commander in Chief.'
He said:. 'In particular, respondents contend that petitioner el Gharani: (1) stayed at an Al-Qaeda-affiliated guesthouse in Afghanistan; (2) received military training at an Al-Qaeda-affiliated military training camp, (Narrative, 1); (3) served as a courier for several high-ranking Al-Qaeda members; (4) fought against U.S. and allied forces at the battle of Tora Bora, (Narrative, 1); and (5) was a member of an Al-Qaeda cell based in London.
'Petitioner strongly disagrees. He claims to have travelled to Pakistan from Saudi Arabia at the age of 14 to escape discrimination against Chadians in that country, acquire computer and English skills, and make a better life for himself.
'He denies going to Afghanistan at all, let alone staying in an Al-Qaeda guesthouse and receiving military training at an Al-Qaeda-affiliated camp.
'He denies being at the battle of Tora Bora and he denies ever being a member of an Al-Qaeda cell based in London.
'Unlike most of the other cases reviewed to date by this Court, the Government's evidence against el Gharani consists principally of the statements made by two other detainees while incarcerated at Guantánamo Bay.
'Indeed, these statements are either exclusively, or jointly, the only evidence offered by the Government to substantiate the majority of their allegations.
'In addition, unlike the other cases reviewed by this Court to date, the credibility and reliability of the detainees being relied upon by the Government has either been directly called into question by Government personnel or has been characterised by Government personnel as undetermined.
'For the following reasons, the Court concludes that the Government was unable to meet its burden of establishing by a preponderance of the evidence that petitioner el Gharani was a part of or supporting Al-Qaeda or Taleban forces in the period preceding his arrest by Pakistani authorities in 2001 because it was unable to either sufficiently establish the reliability of its detainee witnesses, or produce sufficient other reliable evidence to corroborate them.
'Therefore, the Court will GRANT el Gharani' s petition for a writ of habeas corpus.
'The Government's evidence is a mosaic of allegations made up of statements by the petitioner, statements by several of his fellow detainees, and certain classified documents that allegedly establish in greater detail the most likely explanation for, and significance of, petitioner's conduct.
'Due to the unclassified nature of this proceeding, however, the Court is limited to the following description of the factual basis of the Government's case.
'First, with respect to the allegation that the petitioner travelled to Afghanistan and attended an Al-Qaeda-affiliated guesthouse, the Government relies exclusively on the statements of a particular Guantánamo detainee whose reliability had been characterised by the Government's own interrogators as undetermined.
'Unfortunately for the Government, his account of petitioner's attendance at particular guesthouses is plagued with internal inconsistencies.
'In the absence of corroborating evidence, and/or a more substantial basis to assess this detainee's reliability either in general or as to these particular allegations, can not rely on this detainee's statements as to this allegation.
'Similarly, with respect to the allegation of petitioner's participation in the battle of Tora Bora, the Government relies exclusively on a different detainee to establish this fact.
'The credibility of this other detainee, however, has been seriously called into question by Government personnel who have specifically cautioned against relying on his statements without independent corroboration.
'The Government, however, did not produce any such corroboration. Because participation in a battle against US and allied forces would be such strong evidence of enemy combatancy, it is particularly important that the Court satisfy itself of the reliability of this evidence.
'Thus, in the absence of independent corroboration from a reliable source, this Court can not rely on this detainee's statements to establish this allegation.'
The judgement finds a lack of any corroborating evidence in respect of all the other allegations.