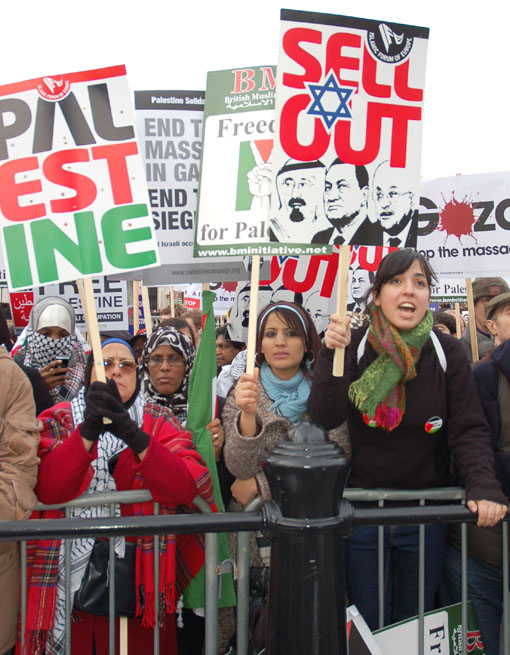 Palestinian resistance movements yesterday announced a ceasefire giving Israeli troops one week to get out of Gaza.
This came after Israel declared a 'unilateral ceasefire' at midnight on Saturday (2am local time), and as medics pulled at least 95 bodies from the rubble of bombed-out homes, including those of several children.
This brought the overall death toll since Israel launched its Operation Cast Lead on December 27 to at least 1,300, medics said.
Local reports said some Israeli forces have already begun pulling out.
Deputy Head of Hamas Political Bureau, Moussa Abu Marzuq, announced on Syrian state television in Damascus: 'The Israeli enemy has failed in its bid to impose conditions.
'We in the Palestinian resistance movements announce a ceasefire in the Gaza Strip and demand that enemy forces withdraw in a week and open all the border crossings to permit the entry of humanitarian aid and basic goods.
'We are ready to accept all efforts, particularly those of the Egyptians, Turks, Syrians and Qataris, to reach an agreement that meets our known demands, namely the lifting once and for all of the blockade and the opening of all the crossing points, including the Rafah crossing.'
Meanwhile, a Hamas delegation travelled to Cairo to hold talks with Egyptian intelligence sources about an Egyptian initiative that includes the withdrawal of Israeli occupation forces, monitoring along the 'Philadelphia' route and the activation of various crossings in and out of Gaza.
Announcing the 'unilateral ceasefire', Israeli prime minister Ehud Olmert apologised for the deaths and suffering of innocent civilians.
Following the Israeli declaration, the resistance fired at least five rockets into southern Israel, landing near the town of Sderot.
Israel responded with another air strike and fighting broke out in Gaza City.
Israeli troops shot dead an eight-year-old girl in the northern town of Beit Hanoun and a 20-year-old man near southern Khan Younis, medics said.
But the spokesman for the Palestinian Resistance Committees (PRC) Abu Mujehad said that 'the Zionist enemy fled.
'The rockets didn't stop. The organisations are alive and kicking and keep firing and operating and (captured Israeli soldier Gilad) Shalit is still in our hands.'
Mujehad added that the additional victims discovered on Sunday morning under the rubble in Gaza only demonstrated Palestinian suffering, not Israeli success.
'If Israelis enjoy seeing hundreds of buildings destroyed and 1,200 civilians killed, then they can say that they won.
'But if we look at this from a military perspective, any small child understands that they didn't win, they were defeated.
'Our rocket arsenal exists, smuggling will not stop, the shooting capabilities of the organisations continue unabated.'
Mujehad confirmed that only a few dozen fighters had been killed in the war, adding, 'We, in contrast to the enemy, don't hide casualties because martyrs deserve a special funeral worthy of their holiness . . . Israelis, on the other hand, have turned hiding casualties into an art.'
Dawud Shihab, a Gaza-based spokesman for Islamic Jihad, said the truce would give an opportunity for Arab governments to put pressure on Israel to withdraw all its troops.
Meanwhile, an international summit of European and Arab leaders aimed at shoring up the truce began in the Egyptian resort of Sharm el-Sheikh while officials in Cairo held talks with Hamas in a bid to consolidate the ceasefire.