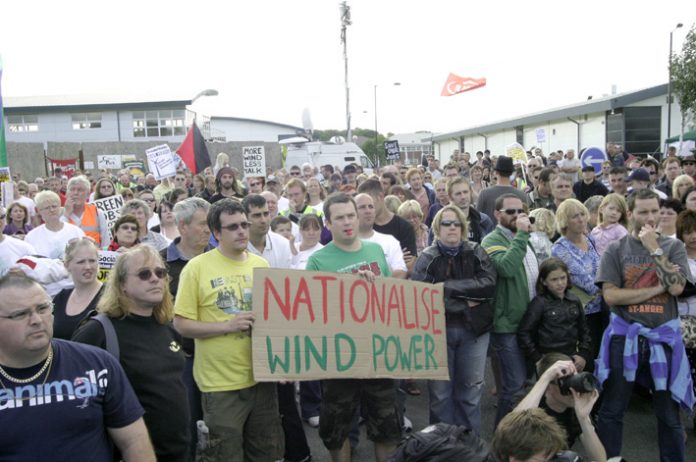 'We're here to stay,' was the message from the 25 Vestas workers occupying the wind turbine factory on the Isle of Wight on Friday.
It was delivered by Mark Stringer one of the original occupiers to a rally at the end of a march of over 500 workers and youth from St Thomas's Square, Newport, to the Vestas plant.
Marchers kept up chants of 'we want our jobs' and 'nationalise'.
A statement on the campaign website explains: 'Vestas Blades UK is due to close on 31st July. 600 jobs will be lost immediately, many more jobs that depend on Vestas will follow.
'This makes no sense from a green or a labour perspective!
'The government has just announced a major expansion of renewable energy including wind power.
'We are calling on Vestas to keep the factories open, saving jobs and offering those who want to leave a better redundancy deal.
'We are calling on the government to intervene to save jobs at Vestas, through nationalisation if that is what it takes, to show that it is serious about saving the planet.'
Offshore energy union RMT has confirmed that it will be providing legal assistance to the workers involved in the Vestas occupation at a possession hearing scheduled for this Wednesday (29 July).
Stringer told the enthusiastic rally: 'I've come out of the factory for family reasons.
'I became involved because we all need jobs.
'The atmosphere inside is one of solidarity.
'Bully-boy tactics were employed by management but after a while they got the message – that we are here to stay!
I'd like to thank you all for this fantastic rally but a I'll leave with a last message to management – we're here to stay! On hot meal!'
This last was a reference to management attempts to starve out the occupiers.
In a statement issued before the march, they said that the plant has been fenced off and management was now supplying some food, it comprised of a few sandwiches, crisps and cans of fizzy drink.
Rally chair Steve Stotebury said: 'Management still stubbornly refuse to negotiate with our boys inside.
'They've reverted to bullying but our boys aren't moving.
'They then resorted to starving them out.
'Our message to them is "no more games".
'We are hitting the company where it hurts – in the pocket.
'Since we started our protest, the value of Vestas shares has fallen.
'Enough is enough, negotiate.
'This a message from our boys: "Food arrived today – a sandwich and a fizzy drink.
' "Management require employment files, all we require is one hot meal.
' "We're still waiting for a reply.
' "Morale is high. Thank you for all your support, you are our heroes."
'Boys, you are the bigger heroes.'
Isle of Wight Unison local government branch chair Mark Chiverton told the rally: 'I bring you greetings from the 3,000 Unison members on the Isle of Wight.
'Everyone is furious about what is happening here and are inspired by the people on the balcony who are taking such courageous action.
'Their sacrifice is giving a message. The whole world is watching.
'The occupation has put this dispute on the map.
'I must admit I was sceptical about the occupation at first, but it is putting us on the map.
'Each night it is bringing more people here.
'We need more jobs on the Isle of Wight, we don't want this island to become a ghost town.
'I'd like to thank the RMT for what they are doing, all unions need to step up their support.'
Before the march set off, News Line spoke to Vestas worker Kev, who said: 'I don't like the way they treated us.
'They haven't helped us at all.
'And I don't like the way they treated the occupiers.
'We got some food in, but some fell to the ground and some of the security guys stamped on it.
'The girls were manhandled by security', he alleged.
Kev continued: 'We are going to be out of a job with no money.
'We really want the company to be nationalised.
'We want the government to keep our jobs.
'My worst feeling is that Vestas have made £70m profit and are going to take the money and run.
'They could have done a lot with that £70m.
'The sit-in is being backed by all the unions.
'Even when all this is over, we should still be backing the boys up on the balcony.
'They are due in court on the 29th July.
'The support we've had has been great.
'We've got to stick it out until we get nationalisation or higher redundancy pay.
'We've come this far and we've got to support these guys, they are really heroes to the rest of us.
'Some of those in the sit-in stand to lose thousands of pounds.
'They've risked that for their families and for all of us.
'We've got to carry on until they are reinstated without any loss of redundancy pay at all.'
Hairdresser Melanie Robson told News Line: 'My husband was at Vestas and my friend was at Gurit (the next door factory that supplies resins to Vestas).
'There was an announcement due to be made at 6pm last night but it was cancelled.
'I think they were probably going to announce redundancies at Gurit but did not want to when the rally was going on outside the works.'
(This was a reference to a rally last Thursday evening addressed by RMT general secretary Bob Crow)
Melanie continued: 'The government should step in and nationalise Vestas.
'If they promised all these green jobs in the future they should save these 600 jobs now, and all the rest of the jobs that will be lost if Vestas closes.
'All the shops in the town and businesses will be affected as well.
'The Island will end up as a massive ghost town.'
During the day, News Line spoke to protesters outside the Vestas factory.
Ex-Visteon, Enfield, worker Ron Clark said: 'I've come here to support Vestas workers in their battle for justice.
'We occupied our factory after being sacked at six minutes notice.
'The working class today – because of successive governments, including this so-called Labour government, allowing employers to do what they want – is being treated with contempt.
'The only way forward is to occupy.
'I personally believe that after Waterford, then Visteon and now Vestas, and the success we've had, that other plants will follow.
'Working class people have had enough.
'It does need a general strike.'
Vestas worker Dave Harry said: 'I've been here every day to support my fellow workers who are sitting in the factory.
'Someone needs to stand up. People have to stand up and get off their knees.
'We made this company millions at this site alone, yet the redundancy they are offering is rubbish – just over the statutory amount.
'Vestas should be nationalised, it's the only place that makes blades for turbines in the country.
'The government must step in if they want renewable energy, otherwise they will be importing it.
'Our mates will stay in the occupation for as long as it takes.
'We will keep supporting them.
'The way they are being treated is just management bully-boy tactics.'
• More pictures in photo Gallery