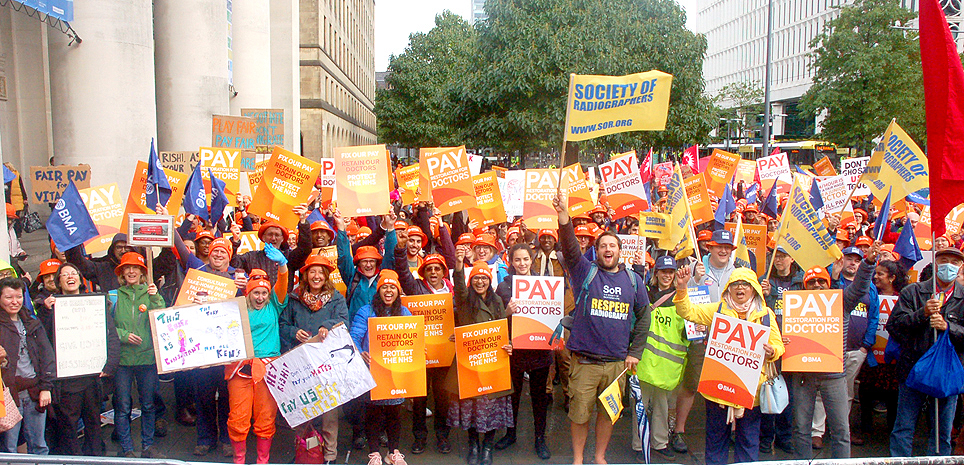 Over 1,000 striking junior doctors,  consultants and radiographers held an angry rally in St Peter's Square, Manchester outside the Tory party conference on Tuesday afternoon.
As the rally was assembling, Dr Salmeet Singh from Derby told News Line: 'They've shifted the goalposts with the new anti-union legislation. It's undemocratic. There's no avenue for protest under this new anti-union law.
'They call it the minimum services levels act, well we're providing minimum service levels every day. It's a sound-bite designed to damage us. They're trying to turn the public against the health profession. I hope and believe it's having the opposite effect.
'Stop dismantling the NHS by stealth. We need a conversation about a general strike. The TUC must be called upon to call a general strike.'
Society of Radiographers regional officer for the northwest, Marie Lloyd said: 'We balloted for strike action and this is our second batch of strikes.
'It's not just about pay. We can't recruit enough radiographers into the NHS. 80% of patients who come into the NHS need the services of a radiographer, whether it's X-ray, CT scan, MRI scan, or radiotherapy.
'The NHS is the backbone of this country, we need the NHS and the NHS needs us. The anti-union laws must be revoked. It's sending us back. We've come a long way and we will not go back.'
Dr Shweta Mittal consultant psychiatrist from South Yorkshire, said: 'We are here for the restoration of pay. There is so much need for recruitment and retention in the NHS. We need to stop the doctors emigrating to other countries.
'We know it's very important to maintain some services, which we do when we are striking anyway.
'But we do have the right to strike and we are striking for the right reasons, which is to defend the NHS. The NHS is crucial, it is the backbone of the UK.
'The TUC should call a general strike to defend the NHS and defeat the anti-union law.'
Manchester consultant Dr Rita Bhalla said: 'There are at least 70 or 80 BMA members from Manchester here today. Our junior colleagues are full of fight, full of zest. They're the future of the NHS.
'I've worked in the NHS for nearly 30 years. It's one of the best health systems in the world and we are very proud of it.'
Dr Sajay, a consultant from Birmingham, said: 'Everyone should stand together at the same time and show their strength of feeling.
'The TUC should call a general strike. We need joint action for change. I've worked 23 years in the NHS now and it's under enormous pressure. It is the most important thing for all of us just look across at the Atlantic.'
Junior doctors leader Vivek Trivedi was the first speaker at the rally. He said: 'We're here to tell Sunak and Barclay we are going to save the NHS.
'We're not going anywhere.  They are trying to weaken us and divide us. But we are saying it louder than ever before, we will save our NHS.
'Your action is growing, your union is growing, you deserve full-pay restoration. This government is playing cheap tricks. But it won't win.
'We're stronger together – junior doctors, consultants, radiographers – standing up together and fighting together.
'We are stronger than ever. We're not just fighting for ourselves, this is for the future of our profession and our NHS. Power to all the doctors. We have to take it, they won't give it.'
Vishal Sharma Chair of the BMA Consultants Committee, said: 'Which employer would cut your pay each year for 15 years? What employer would send you to deal with a deadly pandemic with no adequate PPE?
'But that is what this government is doing. Is it any wonder we we are striking? We are stronger than ever. In a survey, 58% of consultants said they had had vacancies in their departments and 80% said they couldn't fill them.
'You may hear the media say we should not be striking. Will it put us off?' he asked, receiving a resounding 'NO!' in reply.
'No. They have brought in this anti-democratic strike law. Yesterday I wrote to the prime minister saying we will not call any further strikes for four weeks and we have also formally written to ACAS asking for their assistance.
'However we are clear, if the government do not come to the table we will call further strike action in November and December and we will re-ballot.
'They cannot and they will not break us. For the sake of our NHS and for the sake of our members and for the sake of our patients, we must win and if we continue to stand together we will win.'
Dr Sumi Manirajan, deputy chair of the BMA Junior Doctors Committee, said: We all know colleagues who have moved to Australia or New Zealand. We would need 50,000 new doctors to have the same level of doctors as they have in Europe.
'We're doing more than ever before. Pay restoration is the first step in saving our profession and the first step in saving our NHS
'We stand united as one profession, we are fighting for generations of doctors that will come after us.'
BMA Council Chairman Dr Phil Banfield, the final speaker at the rally, said: 'Why now, why are we making a stand? It's simple. You have said "enough is enough". Look at this last year, look at what you have become. You have made your union a force of nature.
'You have made your union what it is – an organisation that will take on any government that seeks to move against you and your NHS. We are the doctors trade union. We will not just win this dispute, we will win every dispute.
'This government is attacking your union, it calls your union militant. All of us together, one BMA, standing together on the picket lines
'Sunak says he's interested in long-term decisions. Well I tell him, we're in this for the long term. What did we hear from health secretary Barclay today? A repeated mantra about his focus on the long term.
'I will tell you what long term means to us, 13 years of Tory cuts.
'We will strike until the next general election and beyond that if that's what it takes. Doctors are organised.
'Stick together  strike together, win together,' Banfield concluded, to loud cheers from his members, who responded with loud and long chants of 'BMA BMA BMA!'