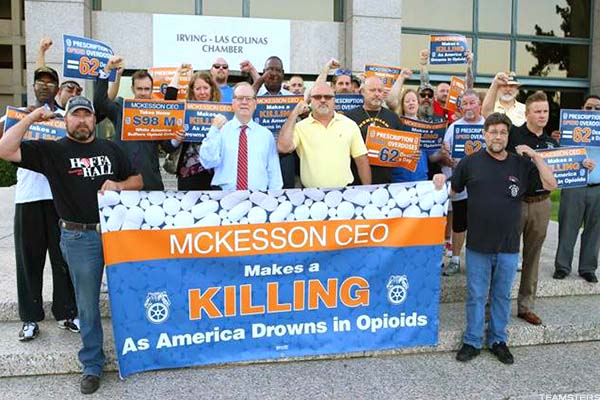 'THE United Farm Workers (UFW) commends the efforts by Senators Udall, Gillibrand, Booker, Blumenthal, Harris and Markey to protect farm workers and their families from this harmful brain damaging pesticide, chlorpyrifos,' UFW Vice President Giev Kashkooli declared on Tuesday.
He continued: 'We know chlorpyrifos does neurodevelopmental harm in children and expecting mothers who are exposed to it, (produces) children with a lower birth weight, reduced IQ, loss of working memory, attention disorders and delayed motor development.
'Farm workers and their families' health and lives should not be put in jeopardy. Farm worker families are ready to fight back and speak out against the usage of chlorpyrifos until chlorpyrifos is banned. The UFW invites all people of goodwill to help.'
The UFW congratulated Senators Tom Udall (D-NM), Kirsten Gillibrand (D-NY), Cory Booker (D-NJ), Richard Blumenthal (D-CT), Kamala Harris (D-CA) and Edward J. Markey (D-MA) for unveiling a first-of-its-kind bill, S. 1624, 'The Protect Children, Farmers & Farmworkers from Nerve Agent Pesticides Act,' in the US Senate.
The bill will ban chlorpyrifos, a widely used agricultural pesticide linked to long-term damage in children's developing brains, including reduced IQ and attention deficit disorder.
• The public 'vote no' campaign spearheaded by the International Brotherhood of Teamsters against McKesson Corp. (MCK, the leading pharmaceuticals wholesaler in the US), proved successful after investors on Wednesday, July 26, opposed the company's executive compensation plan.
Investors rejected the programme at McKesson's annual shareholder meeting outside Dallas, the company said in a press release. The company plans to disclose the number of shareholders who voted against the plan on Thursday in an SEC filing, but within the company"s bylaws, 50% of a vote is required for approval. The vote marks the second time since 2011 the board has failed to rally majority support behind advisory votes on pay.
So-called say-on-pay votes are non-binding, so McKesson needn't do anything in response to the rejection of its compensation plan. But the outcome is embarrassing to management, and activists have often mounted campaigns following negative say-on-pay votes because they are an indication of a large disgruntled shareholder base.
'We cannot afford another decade of business as usual at McKesson – honestly I don't think America can survive it,' Ken Hall, general secretary-treasurer of Teamsters, said to the crowd picketing outside the shareholder meeting. This fight is for the health of the company and the health of our country. It is the first time shareholders have an opportunity to vote for accountability at one of the companies at the centre of the opioid epidemic, but it won't be the last time.'
The union, a long-term shareholder of McKesson, called for reform in the company's governance and executive pay system. Earlier in July, Teamsters sent a letter to McKesson shareholders urging for a vote in favour of the union's independent chair proposal and against the company's executive pay proposal.
Shares of McKesson dropped 1.9% to a low of $164.42 during the shareholder meeting, but rebounded to $166.69 per share during afternoon trading. The recent efforts by the Teamsters labour union do little to address the root causes of the opioid epidemic,' said Kristin Chasen, Director of McKesson's Corporate Media Relations. Nor can these attack efforts be disentangled from the labour contract dispute the Teamsters have been engaged in at one of our company's facilities.'
America's opioid epidemic is an escalating public health crisis, one fuelled by access to prescriptions. According to data from the Centres for Disease Control and Prevention, West Virginians (one of the state's most heavily afflicted by the opioid epidemic) are more likely to die from drug overdoses than they are from car accidents and gun violence.
'While we don't manufacture, prescribe or dispense opioids to patients, we are doing everything we can to help address this crisis in close partnership with doctors, pharmacists, government and other organisations across the supply chain,' McKesson said in a press release.
• Several hundred workers who maintain American Airlines planes picketed on Wednesday at the carrier's home airport, calling for higher pay and an end to shifting maintenance work overseas. The demonstration underscored conflict between the airlines, which struggled for years but are now earning huge profits, and their union workforces.
Helped by a bankruptcy restructuring, less competition, lower fuel prices and new leadership, American Airlines Group Inc. earned $2.7 billion last year. They are not going to hoard it all to themselves,' said John Samuelson, president of the Transport Workers Union. 'The TWU work force is going to get their fair share in this contract negotiation.'
Samuelson's union organised the midday rally at Dallas-Fort Worth International Airport, which airport police estimated at 600 people. Another protest was planned for later in the day. The transport union and another union have been negotiating with American for a new contract since late 2015.
The transport union says workers need higher wages to make up for concessionary contracts that were approved when American was in financial distress in 2003 and 2012. They also say that American is raising profits by moving some maintenance work from Tulsa, Oklahoma, to foreign shops where labour costs are lower.
American has announced plans to build what the union says will be a $100 million maintenance facility in Brazil – American puts the cost at $50 million. American Airlines spokesman Matt Miller said the airline gave the union a contract proposal last week that would protect current jobs even as it builds a two-airplane hangar in Sao Paulo, Brazil.
On the wage issue, Miller said that last year American gave pay raises outside of the normal bargaining process to its union employees, including increases of between 15 per cent and 36 per cent for many maintenance workers. Samuelson, the union president, said that even with last year's rises, ground workers at American will soon fall behind in wages because of recent contracts at other major airlines, and they already have inferior health and pension benefits.
• If Trump's Republicans were serious about lifting a finger to help working people they would immediately vote to raise the minimum wage. That's because in the 21 states with $7.25 an hour minimum wage, an average of 36.8 per cent of the workforce would get rises IF the minimum wage were raised.
According to the National Employment Law Project that's 20.7 million workers who would have more money in their pockets. Democrat senators Chuck Schumer and Bernie Sanders have introduced the Raise The Wage Act of 2017 in the Senate and 28 Democrats are co-sponsoring it. The Democrats want to raise wages to a minimum of $15 an hour by 2024. Trump's Republicans refuse to raise the minimum wage.