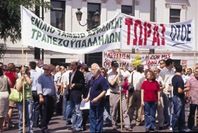 A US Humvee was destroyed when an explosive charge went off on Wednesday near a US forces convoy in the Al-Rustamiyah area, southeast of Baghdad.
US forces took a body out of the wrecked vehicle, as American casualties in Iraq continued to mount and a poll published by the ABC News/Washington Post said 60 per cent of Americans now believed the war was not worth fighting and 75 per cent said the number of casualties was unacceptable.
At least 80 US troops and over 700 Iraqis were killed in Iraq in May.
For the first time since the Iraq invasion, the poll found that a majority of Americans (52 per cent) did not feel the war had made America safer and 40 per cent saw a parallel with Vietnam.
Also last Wednesday, an explosive charge destroyed another Hummer vehicle travelling within a US military convoy in Mushannah area, north of Hadithah (120 kilometres northwest of Ramadi).
And an official from the Northern Oil Company said that an important oil pipeline was blown up on Wednesday morning in Baiji.
The night before, the US base of Ayn al-Asad in Al-Baghdadi City (85 kilometres west of Ramadi) came under rocket attack. Ten big explosions rocked the base.
Three US soldiers were were reported to be among 32 people killed in violence last Tuesday, with scores of others wounded.
Fourteen people – including seven Iraqi puppet soldiers – were killed and 20 others were wounded by three car bombs in Al-Huwaijah city, northern Iraq.
In Mosul, also in the north, nine people were killed, including four gunmen shot dead by the police.
Three students were also killed in the city at the hands of unidentified people and two policemen were killed in another attack.
Four people, including a Foreign Ministry employee, were killed in an attack in the capital, Baghdad.
Three Iraqi soldiers were also killed when their military base came under shelling in Fallujah, the city razed to the ground by a ferocious US 'collective punishment' assault last November.
According to another US army statement, a US Marine was killed in an attack near Fallujah.
The US army says that more than 30 armed operations are currently being carried out against the Iraqi resistance by the US forces and their puppets.
A military statement said a major operation, launched on May 26, was still going on in Tal Afar in northern Iraq.
The US statement said they had made nine finds of arms and ammunition and arrested 73 people, but did not give any further information about what was happening in the area north-west of Mosul, nor about 'Operation Lightning' announced by the puppet Iraqi government encamped in the US fortified 'Green Zone' in Baghdad.
But violent confrontations broke out between US occupation forces and armed men in Tal Afar last Tuesday morning.
Several people were wounded in the confrontations with reports that two US helicopters had been shot down.
Soldiers of the Third Armoured Regiment of the US Army, along with hundreds of Iraqi soldiers and helicopters, entered Tal Afar and began combing operations in search of gunmen.
In the Baghdad area, about 900 people have been arrested on charges of affiliation to armed groups during Operation Lightning.
Sunni clerics accused Iraqi puppet forces of unlawful arrests and torture during the operation.
Abd-al-Salam al-Kubaysi, a spokesman for the Association of Muslim Scholars (AMS), said there were hidden hands trying to provoke a rift between various components and spectrums of Iraqi society.
Speaking at a press conference, Al-Kubaysi said: 'Things are done as part of the Operation Lightning under the pretext of fighting terrorism, but really we see that the culture of terrorism is founded on Iraq's soil once again.
'As you are aware, the Association of Muslim Scholars, along with the Sunni Waqf (religious endowment) and the Islamic Party, has called for closing mosques for three days.
'The truth of the matter is that the association at that time issued clarifications on the methods of dealing with the raids carried out by the Iraqi and US forces.
'The association gave its recommendations to open doors and windows and to respond to every US or Iraqi demand.
'But we reached a stage where those who are taken are killed or tortured; not only killed but subjected to torture that is unthinkable.'
Al-Kubaysi added: 'The political process is a facade . . .
'The other side has pigeonholed you as a terrorist.
'The interior minister said two days ago (June 5) that there was no resistance.
'Bush says there is resistance, large numbers of Americans are killed and he (the interior minister) is saying there is no resistance.'
Urging Shia Arabs in the puppet government to withdraw from the American-backed regime, he said: 'There is a sectarian practice in which the government engages to strike at the Sunnis cruelly.
'They do this either through arrests, displacements or assassinations.
'We hold the government fully responsible for those who are arrested.'
•l The US Army has denied killing seven people in western Iraq during their search for fighters.
This is despite locals reporting that seven people had been killed and wounded in the town of Rawah, near the Syrian border, when the US troops shelled a number of houses and arrested 80 people last weekend.
Locals said the town was also bombarded by US military aircraft.
• Reports say the 'Shi'a-Kurdish alliance' over oil-rich Kirkuk in northern Iraq is crumbling fast.
The American government has been widely condemned for trying to federalise Iraq along sectarian lines, dividing the country into three parts to try and maintain control.
Differences between the Kurdish and Shi'a coalitions which make up the Iraqi puppet government are reported to be deepening every day.
The Kirkuk governor, Abd-al-Rahman Mustafa, met the US consul in Kirkuk, Anne Bodine, at the governorate office this week.
Bodine was reported to agree that 'the session of the Kurdistan parliament was considered as an important step', and that, 'It might become a foundation for the formation of the Governorate Council.'